CHRISTCHURCH, New Zealand, Sept 8, 2010 (AFP) - New Zealand authorities extended a state of emergency in the second largest city of Christchurch Wednesday after the most damaging aftershock since a powerful weekend quake.
The 5.0-magnitude aftershock struck just below the surface at 7:49 am (1949 GMT Tuesday) sending frightened residents rushing into the streets, briefly cutting power supplies and bringing down debris from already damaged buildings.
The city's civil defence headquarters and a welfare centre sheltering people made homeless in Saturday's quake were temporarily evacuated.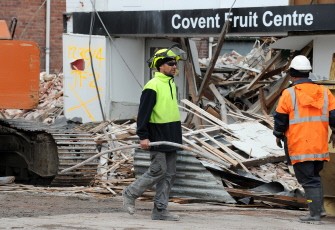 Workmen remove material from buildings being demolished following earthquake damage in Christchurch on September 7, 2010. AFP
An estimated 1,000 motorists in a 1.9-kilometre (1.2-mile) tunnel linking Christchurch to the nearby port of Lyttleton received a scare when the aftershock opened up cracks in the structure.
The tunnel was closed as a precaution but later reopened after engineers found the damage was superficial.
The latest quake was just one kilometre (half a mile) deep and much closer to the city centre than Saturday's 7.0-magnitude quake, which caused billions of dollars of damage, seismologists said.
The civil defence ministry extended a state of emergency in the city due to expire at midday Wednesday (0000 GMT) for another week, although it said the decision was due to the scale of damage suffered on Saturday, not the latest aftershocks.
Prime Minister John Key said while authorities were keen for the city and surrounding areas to return to normal as soon as possible, public safety remained the top priority.
"As this disaster unfolds what we're seeing is some areas are much more badly affected than we thought they were and, in fact, the damage is much greater than we thought it was," he told reporters on a tour of some of the region's worst-hit areas.
Christchurch Mayor Bob Parker said the intensity of the latest quake reduced many emergency workers to tears.
"It was a devastatingly, vicious sharp blow to the city," he told NewstalkZB radio.
"This was a terrifying moment. We have just had to evacuate our civil defence headquarters.
"We have got staff in tears, we have got fire engines going through the middle of the city, power is out and a lot of people are very, very churned up by that."
Civil Defence Minister John Carter said almost 300 aftershocks had rocked the area since Saturday.
The recovery period for the city of 340,000 people would be "months, not weeks", he told parliament.
"I'm bloody terrified all over again," resident Colleen Simpson told the Stuff website after Wednesday's aftershock.
Christchurch City Council spokeswoman Diane Keenan said: "The jolt was absolutely huge. A really big, stiff jolt. And it was vertical, rather than side to side like the first one. If you were in a car the road moved up and down."
The latest quake came as staff were making their way to work at the few shops and companies in the inner city that have been able to open this week. They were immediately told to leave.
Nobody was killed in Saturday's powerful quake, although many residents reported close shaves. The Canterbury health service said some minor cuts and bruises were reported after Wednesday's aftershock but nothing serious.
Parker said the latest convulsion hampered clean-up efforts in the quake-scarred city.
"We were starting to think, maybe, just maybe, we are over the worst of this and now we have had this shocking event," he said.
Officials estimate up to 100,000 homes were damaged in Saturday's earthquake, which caused damage estimated at two billion dollars (1.45 billion US).