Egypt picked a

new finance minister

Sunday as part of a broad cabinet reshuffle demanded by protesters camped out in central Cairo, and the outgoing minister said policy making had become "confused."
The changes went some way to fulfilling demands of protesters, who have also called for a swift trial of Hosni Mubarak, 83. The former president's lawyer Sunday said he had slipped into a coma but state media denied the report.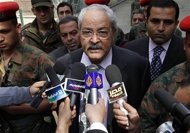 File photo of Egypt's Finance Minister Radwan speaking to the media in Cairo
Mubarak has been hospitalized in the Red Sea resort of Sharm el-Sheikh since he was questioned in April and his health is often subject to speculation. Many Egyptians see his illness as a ruse to keep him out of court.
Protesters ended Mubarak's 30-year rule on February 11, but many are frustrated the army council has not moved faster to shake up the system and purge the ex-president's officials.
Samir Radwan, who was appointed finance minister shortly before Mubarak left, will be replaced by Hazem el-Beblawi, 74, who has been an adviser to the Arab Monetary Fund in Abu Dhabi. Other names were also announced, including foreign minister.
The new finance minister could find policy initiatives vetoed by the army as his predecessor, Radwan, found when he secured a loan from the International Monetary Fund only to have the plan shot down, economists said.
Prime Minister Essam Sharaf's new cabinet is expected to take the oath of office Monday.
Beblawi told reporters after his appointment that his aim was "restoring as much confidence as possible to Egypt's economy" and said there should be a cap on higher paid state employees, Al-Masry Al-Youm newspaper reported on it website.
"It is unacceptable that one employee's salary is a thousand times bigger that another's," he said.
The new minister also said he did not intend to amend the general budget set by his predecessor. "This budget had been approved based on the law, it would be dangerous to change or amend it -- that would lead to more tension," he said.