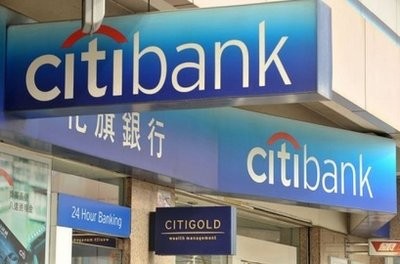 AFP file - Citibank sign boards are seen outside in one of their branches in Hong Kong.
NEW YORK, Sep 27 (AFP) – Citigroup's top new banker, who defected from Swiss rival UBS AG earlier this month, could get a salary of up to 30 million dollars a year, The Wall Street Journal has reported.
Stephen Trauber, a banker specialized in the energy sector, has secured the lucrative three-year pay package, the newspaper said, citing people familiar with the matter.
The US Treasury still owns roughly 17 percent of Citigroup after bailing it out during the 2008-2009 financial crisis to the tune of 45 billion dollars. The government intervention means there are limits on how much Citi can pay its top executives.
Nevertheless, Citigroup announced Friday it would grant its top 25 executives tens of millions of dollars in shares in 2010, and that bank CEO Vikram Pandit would get a raise next year from his current symbolic one-dollar salary.
Citigroup, once the world's largest bank, lost 1.6 billion dollars in 2009, and a whopping 27.6 billion dollars in 2008, when the collapse of rival US investment bank Lehman Brothers triggered the worst financial crisis in decades.
The massive government bailout of failing financial institutions fueled demands for drastic limits to executives' salaries.