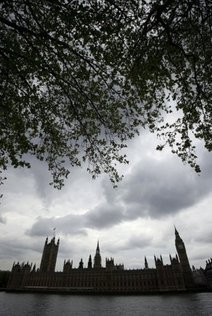 The Houses of Parliament in Westminster, London are seen May 7, 2010. AFP photo
LONDON, May 30, 2010 (AFP) - Britain's new coalition government suffered a blow Saturday when a high-profile finance minister, David Laws, resigned after just 18 days in the job following revelations over his expenses claims.
Laws stepped down as Chief Secretary to the Treasury after the Daily Telegraph newspaper reported he had channelled more than 40,000 pounds (57,800 dollars, 47,100 euros) of taxpayers' money in rent to his long-term boyfriend.
"I do not see how I can carry out my crucial work on the budget and spending review while I have to deal with the private and public implications of recent revelations," Laws said in a brief statement to journalists.
The millionaire former banker, a member of the Liberal Democrat junior coalition partners, said he had not disclosed the financial arrangement because of "my desire to keep my sexuality secret".
"I cannot now escape the conclusion that what I have done was in some way wrong even though I did not gain any financial benefit from keeping my relationship secret," he said.
In a letter accepting the resignation, Prime Minister David Cameron described Laws as a "good and honourable man" and said he believed he had been motivated "by wanting to protect your privacy rather than anything else".
Cameron said he hoped Laws could return to the government one day as he had "a huge amount to offer our country".
Laws' role made him deputy to Chancellor of the Exchequer George Osborne, of the Conservative party, at the Treasury.
His successor will be another Liberal Democrat, Danny Alexander, who was formerly the minister responsible for Scotland, Downing Street said.
Osborne expressed regret at the departure of his short-lived colleague, saying: "It was as if he had been put on earth to do the job that was asked of him."
The Telegraph claimed that 44-year-old Laws claimed up to 950 pounds a month for five years to rent a room in two properties owned by his partner James Lundie, a lobbyist.
In a statement Friday immediately following the revelations, Laws claimed he did not consider himself to be in breach of the rules on expenses as he and Lundie had separate bank accounts and separate social lives.
Laws held one of the highest-profile roles in a government that has made reducing Britain's record 2009-2010 deficit of 156.1 billion pounds a priority.
He and Osborne this week unveiled spending cuts worth 6.25 billion pounds.
Although Laws had apologised for claiming the money and referred himself to the parliamentary expenses watchdog, he decided that his role in a department charged with slashing public spending had been fatally compromised.
Cameron has pledged to clean up politics after last year's expenses scandal, in which lawmakers were shown to have filed expenses claims for everything from porn films to ornamental duck houses.
Britain's first coalition government since World War II emerged from the inconclusive May 6 general election.
The Conservative-Liberal Democrat government ousted Gordon Brown's Labour administration.