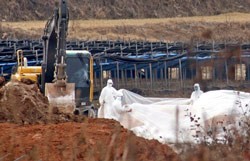 Health officials wearing protective suits prepare for a slaughter at a chicken farm where the bird flu virus was found in Iksan, south of Seoul, Nov. 26, 2006 (AFP Photo)
Authorities in Republic of Korea (RoK) slaughtered tens of thousands of chickens Monday in an effort to control an outbreak of deadly bird flu, even as a new case was reported elsewhere in the country.
The agriculture ministry has already culled 81,000 poultry and other animals since a highly contagious strain of the H5N1 virus was detected Saturday near the southern city of Iksan.
Health officials have confirmed that the outbreak, the country's first for three years, was caused by the H5N1 strain of avian influenza, which can also be deadly for humans.
"Today we are culling 96,000 chickens within a 500-meter (1,650-foot) radius of the outbreak site," ministry spokesman Park Tae-Hwan told AFP.
By Thursday, the ministry plans to complete the culling of about 236,000 chickens and ducks, he said, as well as 300 pigs and 577 dogs.
"The virus has not been detected at farms outside the designated area but we are desperate to control the outbreak by maintaining tight restrictions on the movement of people and vehicles within a 10-kilometer (six-mile) quarantine zone," he said.
Excavators were brought in to dig burial pits for the birds while workers in white protective suits and face masks continued the cull.
Meanwhile the ministry confirmed another outbreak at a farm in the city of Seosan, 120 kilometers southwest of Seoul, after a pair of chickens born from eggs originating at the Iksan poultry farm showed symptoms.
"Preliminary tests showed the virus detected in Seosan is not a highly virulent strain but low-pathogenic," said ministry official Yoon Yong-Do.
"Final test results will come out tonight."
The farm at Seosan, 130 kilometers northwest of Iksan, was sealed off.
Last week the ministry said the death of some 200 chickens at a farm in Pyeongtaek, 70 kilometers south of Seoul, was due to a mild strain of bird flu not lethal to humans.
Poultry consumption has plunged by around 20 percent since the Iksan outbreak was confirmed Saturday as bird flu, newspapers said. Samsung Tesco reported a 30 percent drop in chicken sales, Dong-A newspaper reported.
The government began a campaign to persuade people that bird flu is not a threat if poultry is well cooked. Prime Minister Han Myeong-Sook and agriculture officials dined Sunday on chicken soup in an attempt to restore confidence.
Iksan is a hub of the poultry industry and includes top chicken meat processor Halim. The firm supplies up to 25 percent of domestic demand and also exports cooked chicken to Japan and other countries.
Japan has now suspended RoK 's poultry imports.
RoK was the first country to report avian flu when the latest outbreaks, the largest and most severe on record, began in Asia in mid-2003.
From December 2003 to March 2004, it destroyed 5.3 million ducks and chickens at a cost of 150 billion won (now 160 million dollars) and in December last year declared itself free of the virus.
Nobody in RoK has fallen ill from bird flu. Earlier this year a total of nine people were found to have been infected by the H5N1 virus, mostly while handling culls in earlier years, but they had shown no symptoms.
Democractic People's Republic of Korea announced new measures to prevent the virus from spreading across the heavily fortified border.
Frontier surveillance posts are working closely with veterinary pathologists to try to stop the disease being brought into the communist state, the official Korean Central News Agency reported.
Hundreds cross the border daily for sightseeing or business.
H5N1, which is spread through contact with sick animals, has killed more than 150 people worldwide since late 2003 and triggered mass culls of tens of millions of poultry.