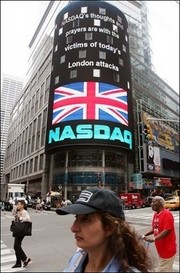 An electronic share index of Nasdaq in Lonodon (AFP Photo)
The US Nasdaq stock market sharply increased its takeover bid for the London Stock Exchange to 2.9 billion pounds on Monday in a further sign that US financial companies are muscling in on the European share trading sector.
The increased bid, equivalent to 4.3 billion euros or 5.5 billion dollars, represents a 20.8-percent increase on Nasdaq's previous offer in March and comes amid rapid consolidation in the global stock trading landscape.
Chief Nasdaq rival the New York Stock Exchange looks likely to merge with pan-European market operator Euronext, while a group of US and European banks have revealed preparations for a new stock trading platform to challenge established European stock markets.
Nasdaq, which was already the biggest shareholder in Europe's biggest market, added Monday that it had snapped up another tranche of shares, taking its total LSE holding to 28.75 percent, from 25.1 percent previously.
"We are excited about the prospect of combining two strong businesses to form the leading global, cross-border equity market platform giving issuers the ability to dual-list simultaneously in London and New York," said Nasdaq president and chief executive Robert Greifeld in a statement unveiling the new LSE takeover bid.
"The combined entity will be well positioned to lead further consolidation and compete effectively for the benefit of all market users."
Nasdaq, which is dominated by US technology listings including online search engine Google, pitched its new bid at 1,243 pence per share and said it would place a dual listing in London and New York if the offer was successful.
In early afternoon London trading, the LSE share price rocketed 5.91 percent to 1,290 pence. The capital's FTSE 250 index, on which the group trades, had slid 0.07 percent to 10,703.40 points.
"Nasdaq has requested a meeting with LSE's chairman to seek a recommendation ... in advance of posting the offer document (which will be undertaken as soon as possible)," the US exchange added in the statement.
The Nasdaq had tried unsuccessfully in March to take over the London exchange but its 2.4-billion-pound bid was rejected as too low.
Under British takeover rules, the Nasdaq then had to wait six months before making another attempt.
Over the past two years, the LSE has fielded unsuccessful takeover attempts from European rivals Euronext and Germany's Deutsche Boerse, as well as Australia's Macquarie Bank and Nasdaq.
Earlier this year Deutsche Boerse pulled out of the running in the face of opposition from its own shareholders.
The NYSE is meanwhile exploring a 10-billion-dollar merger with Euronext that would create an intercontinental market with a total value of listed companies of about 21 trillion euros (26 trillion dollars).
Last week, Deutsche Boerse gave up its designs on Euronext after failing to convince the Paris-listed exchange that a merger made sense.
Although Deutsche Boerse's plans had enjoyed widespread political backing in Europe, Euronext bosses have insisted they would prefer a transatlantic tie-up with the NYSE.
Also last week, European-based investment banks Credit Suisse, Deutsche Bank and UBS with US-based banks Citigroup, Goldman Sachs, Merrill Lynch and Morgan Stanley said they would join forces in an attempt to consolidate European stock markets.
The pressure to integrate stock exchanges on the continent comes mostly from big users such as banks who want increased efficiency.