North Korea's mineral exports to China this year tripled from a year ago as the impoverished nation was desperate to earn hard currency, a report said Sunday.
The North exported 8.42 million tons of minerals, worth $852 million, to China in the first nine months of this year, compared to 3.04 million tons a year earlier, Yonhap news agency said.
China imported 8.19 tons of North Korean anthracites over the same period, it said, citing a joint study of Chinese data with the Seoul-based IBK Economic Research Institute.
The impoverished country has allowed Chinese companies to explore its potentially vast mineral wealth, as its dependence on Beijing grew amid a nuclear stand-off with the United States and its allies.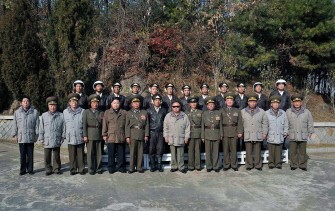 This undated photo released by North Korea's official Korean Central News Agency (KCNA) on November 5, 2011, shows North Korean leader Kim Jong-Il (C) and North Korea's heir-apparent Kim Jong-Un (5th L) posing for a photograph with pilots and other officers during a visit to the Air Force
South Korea estimates the total value of mineral deposits in North Korea at 6.3 trillion dollars.
China is the North's biggest trade partner and has actively explored investment opportunities in the neighbouring country, sometimes gaining strategic benefits.
"Given that North Korean coals are of very good quality, trade with China must have been made at a fairly low price," IBK analyst Cho Bong-Hyun told Yonhap.
International sanctions brought by the North's pursuit of ballistic missiles and atomic weapons have hurt its economy, restricting its access to international credit.