Media tycoon Rupert Murdoch and his son James bowed to pressure and agreed on Thursday to appear before British lawmakers probing a phone-hacking scandal that has rattled the Murdoch media empire.
The decision, marking a reversal of their previous refusal, came hours after the Culture, Media and Sport Committee of the House of Commons formally summoned them to attend.
"The Committee now expected Rupert Murdoch, Chair and CEO of News Corporation, James Murdoch, Chairman and Chief Executive of News Corporation (International), and Rebekah Brooks, Chief Executive of News International, to appear before the Select Committee in Parliament at 2:30 p.m. on Tuesday 19 July," the committee said in a statement posted on the parliament's website.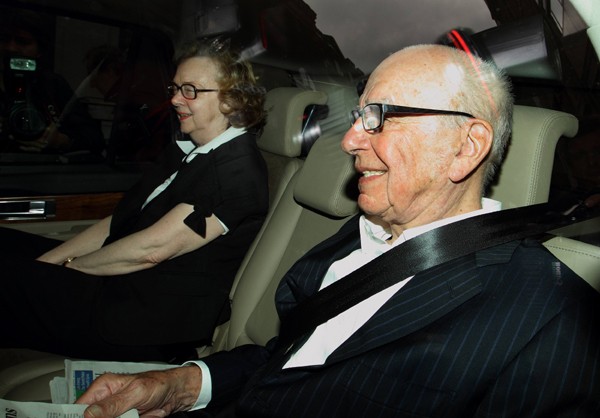 News Corporation CEO Rupert Murdoch is driven away from his flat in central London July 13, 2011.
News International is the British subsidiary of Murdoch's News Corporation, and Brooks used to be an editor of the 168-year-old News of the World tabloid, which has been shut down due to the ongoing saga.
Meanwhile, 80-year-old Murdoch defended his company's handling of the drama, saying the damage was "nothing that will not be recovered" and pledging to carry out a thorough investigation.
Also on Thursday, British police detained Neil Wallis, a former News of the World executive, bringing to nine the total number of arrests related to the scandal. Among them, seven were suspected of phone-hacking and two of police bribery.
In yet another turn of events, The Wall Street Journal reported Thursday that the U.S. Federal Bureau of Investigation had begun to investigate reports that News Corporation sought to hack the phones of victims of the 9/11 terror attacks.
Investigators would try to determine whether employees of News Corporation illegally accessed the private calls, voice-mail messages or call records of 9/11 victims or their families, the report added.
The probe would also look into whether any News Corporation employees bribed or sought to bribe police officials to gain access to such records, people familiar with the matter were quoted as saying.