LONDON, July 9, 2011 (AFP) - Rupert Murdoch was set to arrive in London later Saturday to tackle the phone-hacking crisis at Britain's News of the World tabloid, two days after the shock decision to close the scandal-hit paper.
The News Corp. chief headed for Britain, a company source said, after a week in which the phone-hacking crisis dramatically escalated amid a slew of new allegations and arrests.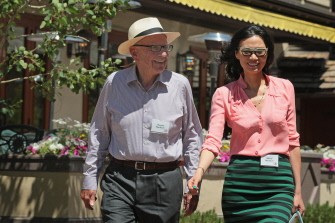 AFP - Rupert Murdoch and his wife Wendi attend the Allen & Company Sun Valley Conference on July 8, 2011 in Sun Valley, Idaho, USA
Murdoch has been keen to limit the fallout from the crisis as he seeks to take full control of satellite broadcaster BSkyB, on which the government is due to decide soon.
The closure of the paper, which prints its final edition on Sunday, has been seen as a sacrifice to help the BSkyB deal.
After several days of fresh hacking allegations, the crisis threatened to engulf Prime Minister David Cameron on Friday with the arrest of his ex-media chief Andy Coulson.
Cameron was visibly shaken during a tough press conference, but he defended his decision to hire Coulson, a former editor of the News of the World, part of Murdoch's empire through his British newspaper wing News International.
"The decision to hire him was mine and mine alone, and I take full responsibility for it," Cameron said, adding however that Coulson "became a friend and is a friend".
Coulson quit as Cameron's communications director in January as the crisis grew. He quit The News of the World in 2007 after a journalist and a private investigator working for the paper were jailed over phone hacking.
The Conservative leader announced a judge-led public inquiry into the furore, as well as a second inquiry into the way in which the British press is regulated.
The opposition Labour party ramped up on pressure on Cameron Saturday, demanding a judge be appointed for the inquiry "with immediate effect" following a report that a News International executive destroyed vital evidence.
"In view of the fact that the News of the World is shutting down, it is a matter of great urgency that any documentary evidence, including files and emails, is preserved to enable a proper inquiry into these serious allegations to take place," said the party 's culture spokesman Ivan Lewis.
"It is essential that we engage in immediate discussions so that by the end of the day we are in a position to agree the appointment of the judge."
The call came after the Guardian daily reported that police were investigating whether an executive deleted "millions of emails" from an internal archive. A News International spokeswoman said: "This assertion is rubbish."
Coulson, 43, was released on bail late Friday after his arrest "in connection with allegations of corruption and phone hacking," said London's Metropolitan Police.
Police also arrested Clive Goodman, the tabloid's former royal editor, who was one of two men jailed in 2007 for hacking the voicemails of Princes William and Harry. Held on allegations of corruption, he was later bailed until October.
A third man, aged 63, was arrested on corruption allegations late Friday and was later released on bail until October.
Murdoch surprised observers on Thursday when he killed off the News of the World, Britain's biggest-selling Sunday paper, amid claims that it hacked the voicemails of a murdered girl and the families of dead soldiers.
Journalists were on Saturday putting the final touches to the last edition if the unashamedly sensationalist tabloid, which has a long history of publishing sex scandals but also hard-hitting investigations.
Staff at the paper are furious at the closure, widely regarded as a way of protecting Rebekah Brooks, who is head of News International and was editor of the News of the World for three years before Coulson.
She has faced calls to resign but in a meeting with angry staff on Friday, which was secretly recorded, she said she would not step down, adding her resignation would not have ended the scandal.
She insisted she knew nothing of the hacking, saying: "If being betrayed is a resignation issue, well maybe I've just read it wrong, but I think I'm much more useful leading this company through this."