WASHINGTON, July 8, 2011 (AFP) - The top US military officer left for China Friday in a trip designed to bolster a fledgling security dialogue with Beijing, even as a US naval exercise in the South China Sea threatens to upstage his visit.
Admiral Mike Mullen, chairman of the US Joint Chiefs of Staff, began the four-day tour that will include talks with senior officers and a visit to military units, officials said.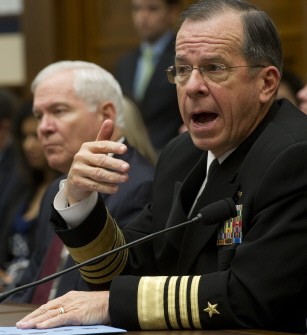 (AFP FILES) Secretary of Defense Robert Gates (L) and Chairman of the Joint Chiefs of Staff Admiral Mike Mullen testify before the House Armed Services Committee on Capitol Hill in Washington, DC, March 31, 2011.
Mullen -- who in May hosted his Chinese counterpart, People's Liberation Army Chief of General Staff Chen Bingde -- "looks forward to continuing the engagement and dialogue" with Chen in Beijing, the Pentagon said in a statement.
But the admiral's trip coincides with a joint naval exercise set for Saturday with the US, Japanese and Australian navies in the South China Sea, where China has asserted territorial claims.
US and Japanese officials said the exercise will include the Japanese destroyer Shimakaze, an American destroyer -- the USS Preble -- and a Royal Australian Navy patrol boat.
The ships will carry out communications training and other drills off Brunei, officials said.
The US Navy played down the exercise, with a spokeswoman calling it a small-scale, "low-level" activity on the sidelines of an international defense exhibition in Brunei.
Lieutenant Commander Tamara Lawrence told AFP it was a "passing exercise," which typically includes flag semaphore drills, navigation and other exercises focused on "basic seamanship."
China has objected to previous US naval drills in the South China Sea, and tensions in the strategic and resource-rich area have mounted in recent weeks.
The Philippines and Vietnam have expressed concern over what they call China's increasingly assertive stance in the area.
Mullen's visit also comes after the United States and the Philippines carried out joint naval exercises, which Manila and Washington insisted were aimed at deepening military ties and not related to worries over China.
China has insisted that it wants a peaceful resolution of territorial disagreements, but has warned Washington against involvement in the intensifying disputes in the region.
The trip to China is the first by a US chairman of the joint chiefs since 2007, officials said.
Mullen "has a wide range of meetings with senior military officials scheduled, including visits to PLA military units," the Pentagon said.
The admiral was also due to address students at Renmin University in Beijing, it said.
As tensions in the South China Sea have mounted, the pace of China-US military exchanges have also picked up, with the former US defense secretary Robert Gates meeting Chinese Defense Minister Liang Guanglie in Singapore in early June, following a January visit by Gates to Beijing.
Gates warned last month that clashes could erupt in the South China Sea unless nations with conflicting territorial claims adopt a mechanism to settle their disputes peacefully.