The Outrage of the Philippinos are mouting so that Philippine President Gloria Arroyo on Tuesday said her government was pressured into handing over a US Marine convicted of rape to American diplomats to stop bilateral relations from worsening.
Arroyo, in her first public statement since Lance Corporal Daniel Smith was transferred to US embassy custody Friday, said the move will not "impede justice and the rule of law."
"The government had to take this action in order to forestall the further deterioration in our strategic relationship with the United States, which was being rapidly eroded by our non-compliance with the Visiting Forces Agreement (VFA)," Arroyo said in a statement.
The VFA is a 1998 treaty that gives US authorities legal jurisdiction over American soldiers who commit crimes while on official tour in the former American colony.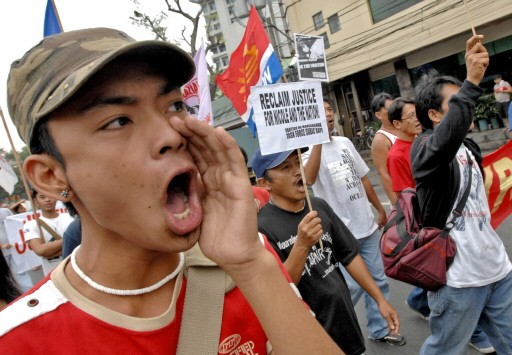 Anti-US demonstrators protest near the US embassy in Manila 02 January 2007, against the transfer of US Marine Lance Corporal Daniel Smith, convicted of rape, from a Manila jail to the US embassy
"This difficult decision was made and taken with only the best interest of the Philippines in mind," Arroyo said, urging Filipinos to "stand behind our alliance with the United States to fight terror and poverty."
Smith was convicted in December of raping a Filipino woman, identified only as Nicole to protect her privacy, while on leave from joint war games in the northern port of Subic. Three other US marines were acquitted.
Washington demanded Smith be turned over to its embassy, citing the VFA. But the Manila court which tried the case rejected that argument, stressing that rape was a "heinous" and non-bailable crime here. It subsequently denied a request from Washington for custody of Smith and the case is on appeal.
Amid the controversy, Washington last month called off annual joint war games with the Philippines, which it considers a key non-NATO ally in Southeast Asia.
Earlier Tuesday, rights groups marched to the US embassy in central Manila, chanting anti-US slogans and demanding the return of Smith to a Philippine jail.
"To bow to US pressure on the issue of custody of convicted rapist Smith is proof that the Philippines remains a colonial slave to its US master," lawyer Virgie Pinlac, one of the leaders of the militant women's group Kaisaka, said.
They branded Arroyo "a champion of rapists and warmongers" for allowing Smith to leave jail despite an earlier court ruling blocking a US embassy request.
"Uphold the dignity and sovereignty of the Filipino people!," screamed one banner as several dozen protesters burned a US flag. Radio talk shows meanwhile were deluged with angry text messages denouncing the late night transfer.