MOSCOW, Aug 8, 2010 (AFP) - Thousands of air travellers were stranded Sunday as Moscow choked in the worst smog in living memory from spreading wildfires that threatened a second Russian nuclear facility.
Iconic buildings like the Kremlin towers and the city's wedding-cake Stalin-era skyscrapers were obscured by the acrid smoke, while Saint Petersburg and neighbouring Finland were also starting to feel the effects.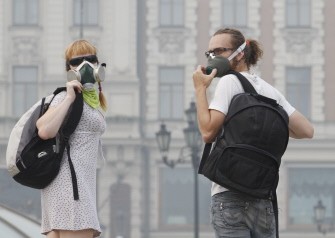 Moscovites wear gas masks to protect themself from the forest fire smog in Moscow on August 8, 2010. AFP
The wildfires have sparked a major crisis in western Russia, killing 52 people and sending authorities scrambling to protect strategic sites, including the country's main nuclear research facilities.
Emergency response minister Sergei Shoigu ordered firefighters to redouble their efforts to put out a wildfire near the Snezhinsk nuclear research facility in the Urals, some 1,500 kilometres (925 miles) east of Moscow.
"As for Snezhinsk, I recommend you work through the night," he said during a meeting with officials from regions hit by the blazes.
He said all of the fires around the city of Sarov in the Nizhny Novgorod region, site of another major nuclear centre, had been extinguished. Authorities had removed radioactive and explosive materials from the facility.
About 2,000 people were stranded at Moscow's Domodedovo international airport when major delays hit their flights after they had crossed passport control to the departures area with food running short, state television said.
Domodedovo, in the south of Moscow, was the airport worst hit with dozens of flights delayed Sunday. "Passengers need to be warned that delays are unavoidable," said Sergei Izvolsky of aviation committee Rosaviatsia.
The airport sent out requests to aviation companies to staff flight crews with pilots capable of flying in zero visibility conditions.
"We are located at the very epicentre of wildfires," Domodedovo spokeswoman Elena Galanova told AFP. "We're asking them to take complicated meteorological conditions into account."
Moscow residents rushed to escape the smog-bound capital, with travel agents reporting package tours to destinations popular with Russians like Egypt, Montenegro and Turkey completely sold out.
"In the last week the demand for tickets from Moscow sold online has gone up by 20 percent," Irina Tyurina, spokeswoman of the Russian Union of Tour Operators, told the Echo of Moscow radio.
"For this weekend there are no places on aircraft to resort destinations and next weekend very few. The smoke has prompted this desire of Muscovites to leave the city," she said.
The Canadian embassy started evacuating some of its staff and their families from the capital, the foreign ministry in Ottawa said.
Moscow's high-profile mayor Yuri Luzhkov, however, decided to return to the city after being ridiculed in the press for staying away during the crisis. His aides said he was interrupting treatment for a "sports injury".
State air pollution monitoring service Mosekomonitoring said carbon monoxide levels in the Moscow air were 3.1 times higher than acceptable levels on Sunday afternoon. The previous day they had been 6.6 times worse.
Moscow residents and tourists tried to protect themselves by donning medical masks or even just clutching wet rags to their faces.
About 554 fires were still blazing, covering 190,400 hectares (470,500 acres), down just 3,000 hectares from the figure the previous day, the emergency ministries said.
Weather forecasters said Russia's worst heatwave in decades would continue with temperatures of 39 degrees Celsius (102 Fahrenheit), although there would be a dip by Wednesday.
"The situation with the wildfires in Russia remains difficult but a trend of improvement is being recorded," the emergencies ministry said on its website.