PESHAWAR, Pakistan, May 6, 2009 (AFP) - More than 40,000 civilians have fled deadly clashes in Pakistan's Swat valley, officials said Wednesday, amid fears that fighting between Taliban and security forces will torpedo a peace deal.
The chaos forced President Asif Ali Zardari onto the defensive -- he brushed aside US concern that Taliban and Al-Qaeda fighters are threatening Pakistan's very existence just hours before a summit with US counterpart Barack Obama.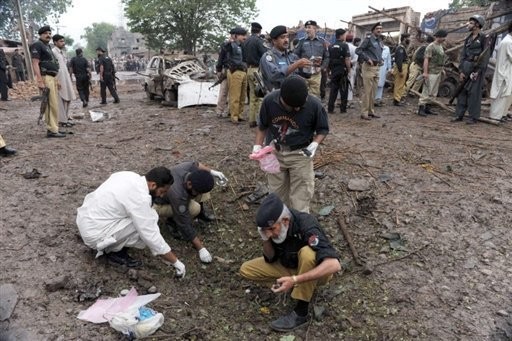 Police officials collect evidence at the site of a suicide blast site near Bara
Deadly clashes flared again overnight in Mingora, the main town in Swat, the one-time ski resort where local officials said armed Taliban have defied curfews and occupied government buildings, making a mockery of the peace deal.
The provincial government said it was scrambling to shelter up to 500,000 people they expect to flee Swat and local officials confirmed Wednesday that tens of thousands had streamed out of the district in less than 24 hours.
"More than 40,000 have migrated from Mingora since Tuesday afternoon," said Khushhal Khan, the chief administration officer in Swat.
"An exodus of more than 40,000 people is the minimum number -- it should actually be more than 50,000," said an intelligence official.
Bedraggled men, women in burkas and children piled onto pick-up trucks and led animals through streets in their haste to flee Swat, devastated by a nearly two-year Taliban insurgency to impose a repressive brand of sharia law.
"I don't want my unborn baby to have even the slightest idea what suicide attacks and bomb blasts are. That's why I'm leaving Mingora with my husband," said a sobbing and heavily pregnant Bakht Zehra.
"For God's sake tell me where I can bring up my child where there are no suicide attacks," she cried.
Pakistan's military has been pressing a fierce offensive in neighbouring districts of Swat, where armed militants advanced despite the February deal, raising expectations of a renewed operation in Swat itself.
The operations were launched under US pressure to crush militants in the northwest, where Washington says Al-Qaeda, Taliban and other Islamists pose the biggest terror threat to the West.
Panic and confusion spread through Mingora on Tuesday after the military issued -- but then swiftly withdrew -- an evacuation order, and clashes between security forces and the armed rebels broke out.
Khan said Taliban militants overnight seized control of several buildings and that four civilians were killed in the town -- three in a mortar attack and one shot dead by security forces.
"They are patrolling in the streets in Mingora and occupying many official buildings, including a police station and a commissioner's office, which houses offices of top police and administration officials in Saidu Sharif," he said.
Local police said Wednesday that the militants had vacated the buildings and dispersed into the mountains, similar to rugged terrain in neighbouring districts where they are fighting guerrilla-style against the military.
The government was heavily criticised for the February deal to put three million people in the northwest under sharia law in a bid to end the uprising, which instead saw the Taliban push further south towards the capital Islamabad.
The violence and displacement forced Zardari to insist in Washington overnight that his government was safe ahead of a crunch summit on the Taliban insurgency at the White House with Obama and Afghan President Hamid Karzai.
"My government is not going to fall when one mountain is taken by one group or the other," Zardari told CNN.
But US lawmakers, who are being asked to approve a seven billion dollar aid package for Pakistan, have voiced increasing fears that the nuclear-armed country is losing the fight against Islamist extremists.
"Let me be blunt -- Pakistan's pants are on fire," Democratic Representative Gary Ackerman said.
Obama has put Pakistan at the heart of the fight against Al-Qaeda as he prepares to roll out an extra 21,000 troops to Afghanistan.