Rescue workers raced against time Thursday to assist victims of a huge earthquake in the flattened Indonesian city of Padang with upwards of 1,000 people feared dead and many more trapped in rubble while another quake struck Indonesia's Sumatra island Thursday southeast of the site of the earlier powerful quake.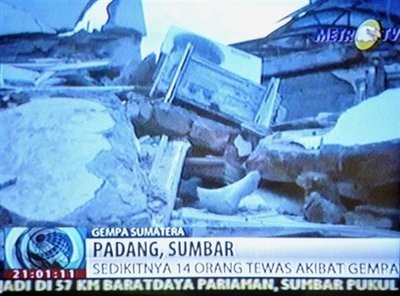 Image taken from television shows the victim of a powerful earthquake in Sumatra. (AFP Photo)
Wednesday afternoon's 7.6-magnitude quake caused buildings to crumble and fires to rage in Padang, home to nearly a million people on the coast of Sumatra island. Communications and power remained cut off overnight.
"The rescue personnel in the location estimated that so far at least 200 people have died," Disaster Management Agency spokesman Priyadi Kardono said in Jakarta.
But that number was likely to soar, officials said, as the first outside rescue teams from the Indonesian army and health ministry reached the city to reinforce overwhelmed police on the ground.
"It's difficult to confirm the death toll as communications have been cut off," Kardono said.
"We need heavy machinery to lift the rubble... we expect that to arrive at the location soon," he added.
Late Wednesday, Vice President Jusuf Kalla said: "People are trapped, hotels have collapsed, schools have collapsed, houses have collapsed and electricity has been cut off."
Health ministry crisis centre head Rustam Pakaya told AFP that a major city hospital was among the many buildings that had buckled.
"Houses and buildings have collapsed, causing thousands of people to be trapped inside in the rubble," Pakaya said.
He said he expected the death toll to soar over 1,000, given the scale of destruction and the large numbers of people feared buried alive.
President Susilo Bambang Yudhoyono, briefing reporters in Tokyo as he returned from the G20 summit in the United States, urged officials to "flood" the city with aid and medical relief.
Three military transport planes were preparing to deliver aid including tents, blankets and medicine, Disaster Management Agency spokesman Priyadi Kardono said.
"The effects of the earthquake could be as big as the Yogyakarta quake," he said, referring to a 2006 quake that killed 6,000.
British-based charity Oxfam said it had already earmarked 200,000 pounds (320,000 dollars) for relief efforts, including the distribution of emergency shelters, hygiene kits and clothing.
"We had aid ready because this area of Indonesia is susceptible to this type of tragedy," said Jane Cocking, the organisation's humanitarian director.
Local media reported that panicked residents rushed from their homes after the quake struck off Sumatra's west coast at 5:16 pm (1016 GMT), 47 kilometres (29 miles) northwest of Padang. Dozens of aftershocks followed.
The Pacific Tsunami Warning Center in Hawaii initially put out a tsunami watch but later withdrew it.
The tremor came not long after a massive quake measuring 8.0 in magnitude spawned a deadly tsunami in the Samoan islands of the South Pacific.
Like Indonesia, the islands sit on the volatile "Ring of Fire", a massive zone of volcanic instability that encircles the Pacific.
The Padang quake was felt in the Indonesian capital Jakarta, 940 kilometres (585 miles) away, and sent frightened office workers streaming out of buildings in nearby Singapore and the Malaysian capital Kuala Lumpur.
"The shaking was the worst I had ever felt," Yuliarni, a resident of Pariaman district outside Padang told TVOne news channel.
"Houses have collapsed, the lights and electricity were cut off... People were fleeing to higher ground and some were hurt," she said.
The quake caused a landslide that destroyed houses at Lake Maninjau, inland from Padang, local resident Hafiz told the channel, while the city airport was slightly damaged but was expected to reopen early Thursday.
Geologists said Padang, which lies near the colliding Indo-Australian and Eurasian tectonic plates, was vulnerable to more quakes and tsunamis.
"There are three big volcanoes in West Sumatra -- Merapi, Talang and Tandikat. We fear that this quake might cause volcanic eruptions there," Geological Disaster Mitigation and Volcanology Centre head Surono told AFP.
Padang lies on the same tectonic faultline that cracked off Aceh, at the northern tip of Sumatra, in 2004 to trigger the Indian Ocean tsunami that killed more than 220,000 people.

A major 7.0-magnitude earthquake struck Indonesia's Sumatra island Thursday southeast of the site of an earlier powerful quake, geologists said.
The quake hit on land at 8:52 am (0152 GMT), 225 kilometres (140 miles) southeast of the quake-hit city of Padang.
The United States Geological Survey put the quake at 6.8-magnitude.
"There are several heavily populated towns (in the area) there but no immediate reports of casualties," Indonesian geophysics and meteorology agency technical head Suharjono told AFP.
"The latest quake could have been triggered by the West Sumatra quake yesterday. The pressure from the two plates colliding might have caused the rear of either plates to break and this likely triggered the latest quake," Suharjono added.
The Japan Meteorological Agency said there was a "very small possibility" of a destructive local tsunami in the Indian Ocean.