Security forces in

Syria

have arrested so many people that the country has become a "huge prison," activists said on Tuesday, as the crackdown on dissent showed no signs of easing
.
Representatives of the protesters who have been waging an unrelenting war of dissent against the regime of embattled President Bashar al-Assad prepared to meet in Istanbul for four days of talks, another activist said.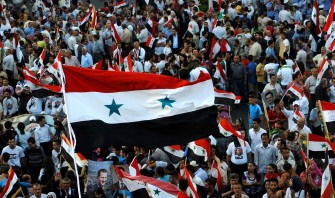 Thousands of Syrian citizens wave their national flags during a pro-government demonsration in Damascus, on July 26, 2011.
On Tuesday "heavy gunfire" was heard in Homs, a day after two men were shot dead by security forces manning checkpoints in and around the central flashpoint city, according to the Syrian Observatory for Human Rights.
The head of the London-based group, Rami Abdel Rahman, told AFP a third person, a woman, was also killed on Monday in the northwestern city of Idlib.
The woman was riding a motorcycle with her husband and child and they had just driven past a security checkpoint when she was killed, he said, adding that the child was wounded.
Meanwhile, the National Organisation for Human Rights accused the authorities of turning the country into a "huge prison" by arresting hundreds of people, despite lifting emergency rule in April.
"Syria has become a huge prison," NOHR chief Ammar Qorabi said in a statement on Tuesday, listing the names of 250 people who have been arrested nationwide in past weeks. Many more have been detained but have not been identified.
"The Syrian authorities are still pursuing arbitrary arrests of political activists, academics and civilians and storming homes as Syrian civilians continue to disappear by the hundreds," it said.
"This is a flagrant violation of the basic rights that are guaranteed by the Syrian constitution, despite the lifting of the state of emergency."
In April, Assad signed decrees lifting five decades of draconian emergency rule and abolishing the feared state security courts, but activists say the wave of arrests has not abated.
The Observatory also reported that security forces arrested 25 people at dawn Sunday in the town of Tal Rafaat in Aleppo province, some taken as "hostage" to force individuals wanted by the authorities to surrender.
Meanwhile, mothers and wives of men arrested by the authorities staged separate rallies Monday in the Damascus suburb of Douma and the town of Zabadani northwest of the capital to demand their release.
Abdel Rahman said troops were dispatched to Zabadani after the rally and were still deployed there on Tuesday, in what could prelude a new crackdown in the region.
The authorities have used deadly force to quell dissent, with at least 1,486 civilians reported killed since mid-March, thousands arrested and thousands more fleeing the country, human rights groups say.
Some rights groups say at least 12,000 people have been detained since the anti-regime protests erupted, but it is unclear how many are still being held and how many have been released.
Meanwhile, representatives of the protesters were due to hold four days of meetings in Istanbul starting Wednesday to discuss coordination and strategy, Syrian activist Bahiya Mardini said.
Mardini, who heads the Cairo-based Arab Free Speech Committee, told AFP in Nicosia on Tuesday the focus wouldd be on "developing the coordination between activists and working groups of the revolution."
She said training sessions and workshops would be held to discuss the legal, political and media aspects of the revolution as well as logistics, and papers would be submitted for discussion.
The meeting will be the first to bring together those responsible for organising almost daily anti-regime protests in Syria but not the first to be held in Turkey.
Some 350 Syrian dissidents met earlier this month in Istanbul for a so-called National Salvation Congress to debate strategies to oust the Assad regime. Dissidents also met in Turkey in April and June.
bur/hkb/al