COPIAPO, Chile (AFP) – Contact with 33 Chilean miners found alive and in good spirits after more than two weeks trapped underground was ramped up Tuesday along with food and medical deliveries, but the workers were not told it could take months to free them.
The engineer in charge of the rescue mission at the San Jose gold and copper mine, Andres Sougarret, said he was plotting where to drill a hole large enough to lift the miners out one by one from a gallery nearly 700 meters (2,300 feet) below ground.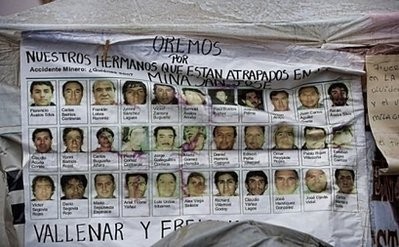 Picture of a banner with the pictures of the 33 miners trapped in the San Esteban gold and copper mine in Copiapo, 800 km north of Santiago. AFP
"The umbilical cord is ready," he said. "Now comes the engineering design, the topography, and then begins the work of drilling."
News of the miners' survival has been greeted as a cause for national celebration in Chile, which was rocked by a massive 8.8-magnitude earthquake in February that claimed more than 500 lives.
Engineers plan an initial vertical excavation to bore a shaft 33 centimeters (13 inches) in diameter, which will then be expanded to 66 centimeters.
But Sougarret said he had not told the miners how long the operation would take, withholding from them his own estimate that it could be three to four months -- until Christmas -- before they can be reached.
Meanwhile, miners were in contact with rescuers through an intercom line lowered through an eight-centimeter diameter bore hole, and reported they were in good health and had water but were hungry after 18 days in the hot, dank mine.
"They asked for food, and toothbrushes and something for their eyes," said Mining Minister Laurence Golborne.
When they heard that their colleagues were alive and had escaped unharmed after the August 5 cave-in, the trapped miners could be heard cheering and shouting "Viva Chile" and then singing the national anthem in an audio recording aired on Chilean television.
Trapped miner Luis Urzua could be heard telling Golborne: "Mr. Minister, we're fine. We look forward to being rescued."
In one of their messages, the miners said they had survived on emergency rations of two tablespoons of tuna fish and half a cup of milk every 48 hours.
Paula Newman, a doctor in charge of monitoring the miners' health, said rescuers had already sent down a glucose solution and medication to prevent ulcers. She said they should wait another day before taking solid foods.
They then will be given high-protein, high-calorie foods, including "a kind of liquid yogurt" specially designed for astronauts, Health Minister Jaime Manalich said.
"They are all in perfect health, and none are traumatized," said Newman. "Their complaints are much less than we could have expected."
How they will hold up for weeks more was a big question mark, however.
The miners were believed to have used a bulldozer to make a channel of water and had rigged up a makeshift lighting system from a truck engine to illuminate their subterranean surroundings.
Miners who escaped the cave-in on August 5 said they believed their colleagues were not in a small cavern but in a spacious area 1.5 to 1.8 kilometers long.
A wave of euphoria has swept Chile since Sunday when a jubilant President Sebastian Pinera, waving a note from the miners, announced that all 33 were alive.
A camera lowered down the bore hole on Sunday showed the miners sweaty and shirtless in the hot (32-36 degrees Celsius, 90-97 Fahrenheit) shelter, but in apparently good condition and high spirits.
"Many of them approached the camera and put their faces right up against it, like children, and we could see happiness and hope in their eyes," Pinera said, adding that the images "gave me a lot of happiness and faith that this is going to end well."
Friends and relatives wept with joy outside the mine at learning their loved ones were safe. During the past two weeks, they had prayed and left messages and symbolic piles of stones around the entrance to the mine.
Early Tuesday they were sending uplifting personal messages to loved ones trapped below in a bid to accentuate the positive in the face of what will be exhausting work to free them.
"Hi daddy, it's Romina, I'm so happy you're well. This is one of the greatest joys of my life," Romina, 20, wrote to her 63-year-old father Mario Gomez.
The mine's owners said the disaster had put the company at risk of bankruptcy, and told a radio station they might not be able to pay the miners once they are rescued.
But Leonardo Farkas, an eccentric mining magnate, on Monday sent a check for 10,000 dollars to each of the 33 miners' families.
"When they're rescued, I'm going to throw a party," he said.