TOKYO, March 3, 2010 (AFP) - Japan's Mitsubishi Motors and PSA Peugeot Citroen of France Wednesday pledged to keep working together but said a capital tie up between them was "not appropriate" at the moment.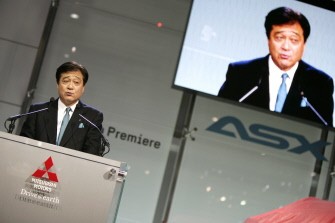 President Osamu Masuko of Mitsubishi Motors Corporation gives a press conference on March 2, 2010 during the second press day at the 80th Geneva International Motor Show at Palexpo in Geneva. AFP PHOTO
PSA chief Philippe Varin and Mitsubishi Motors president Osamu Masuko had met Tuesday at the Geneva Motor Show, they said.
"They confirmed the intent to broaden the current successful cooperation of the two companies," a joint statement said. But they had also concluded that a capital alliance "was not appropriate in the current circumstances."
The companies in December confirmed they had discussed strengthening ties and a possible capital tie-up after Japanese media reported Peugeot was planning to buy a 30 to 50 percent stake in the struggling company.
Analysts then said a deal would give Peugeot access to the advanced electric car systems of Mitsubishi, maker of the i-MiEV city car, and open Mitsubishi's sales networks in emerging Asian markets and the United States.
A deal would have created the world's sixth-largest auto alliance.
However, the French business newspaper Les Echos reported in January that the talks were stuck on disagreement over valuation of the two groups because Mitsubishi carried a higher stock market valuation than PSA.