Israeli Prime Minister Benjamin Netanyahu huddled in his Washington hotel with US envoy George Mitchell Wednesday, but there was no sign of progress in a row threatening Middle East peace talks.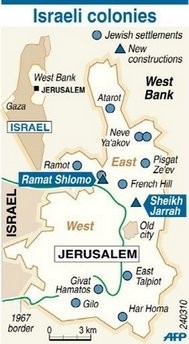 Map of Jerusalem locating new and existing Jewish settlements
The talks took place after two meetings between President Barack Obama and the Israeli leader at the White House late Tuesday, which officials said failed to ease disagreements over Jewish settlements and other issues.
The flurry of diplomacy came with Israel and the United States mired in their worst public confrontation in years, which erupted two weeks ago when Israel announced the construction of 1,600 new settler homes in east Jerusalem.
Obama asked Netanyahu during two high-stakes meetings late Tuesday to take specific "confidence-building" steps to boost indirect talks Washington is trying to arrange with the Palestinians.
"There are areas of agreement. There are areas of disagreement, and that conversation is ongoing," White House spokesman Robert Gibbs said.
There were no immediate details of Mitchell's talks with Netanyahu, who was expected to leave the United States at around midnight Wednesday (0400 GMT, Thursday).
Secretary of State Hillary Clinton remained vague when asked about the commitments Mitchell was trying to obtain on the Arab-Israeli peace process.
"We are engaged in ongoing discussions and senator Mitchell is very actively part of that," Clinton said. "Our goal is the resumption of negotiations, the launching of proximity talks as soon as possible."
In a sign of the fragile state of US-Israeli relations amid a fierce public row over settlements, the White House Tuesday did not offer Netanyahu the normal trappings of a foreign leader's visit, a photo-op or joint press appearance.
Gibbs said the discussions were "honest and straightforward," a diplomatic euphemism hinting at tensions, after Netanyahu went into the talks having laid down a hard line on settlement construction in annexed east Jerusalem.
The White House did not even characterize the talks until Gibbs spoke, 15 hours after the Israeli prime minister left, and unusually did not release an official photo of the closed-door talks.
Netanyahu's office however said the two rounds of talks between the key allies had unfolded in a "good atmosphere."
The Israeli leader on Tuesday made clear that US demands for a settlement freeze could delay the resumption of Middle East peace talks for a year, a day after a fiery speech in which he said "Jerusalem is not a settlement."
"If the Americans support the unreasonable demands made by the Palestinians regarding a freeze on settlements in east Jerusalem and the West Bank, the peace process risks being blocked for a year," Netanyahu said.
"Relations between Israel and the United States should not be hostage to differences between the two countries over the peace process with the Palestinians," he was quoted as saying by Israeli media.
As the prime minister sparred with Washington, his government was also trying to douse a crisis with Britain, after the London government expelled an Israeli diplomat over a row over faked UK passports.
Britain said Tuesday there were compelling reasons to suggest Israel was behind the forgeries used by the team that killed Hamas commander Mahmud al-Mabhuh in Dubai in January.
Notably, Obama discussed the latest tensions on the Middle East with British Prime Minister Gordon Brown, French President Nicolas Sarkozy and German Chancellor Angela Merkel in a secure video conference on Wednesday.
The talks also focused on the next steps the international community could take on another key issue that concerns Israel -- Iran -- as Washington seeks a toughened range of sanctions over the Islamic Republic's disputed nuclear program.
The row between Washington and Israel erupted when -- during a visit to Israel by Vice President Joe Biden -- Netanyahu's government announced the construction of 1,600 settler homes in the east Jerusalem.
The United States has warned such construction undermines its credibility as a mediator, and despite Netanyahu's apology over the timing of the announcement the dispute has rumbled on for two weeks.
Even as Tuesday's talks went ahead, it emerged local officials had given final approval to build 20 apartments for Jewish settlers at the site of a former Palestinian hotel in east Jerusalem.
"The European Union condemns the recent decision of the Israeli authorities to authorize construction around the Shepherd Hotel in East Jerusalem," EU foreign affairs chief Catherine Ashton said Wednesday in Brussels.
UN Secretary General Ban Ki-moon reiterated that the 20 planned apartments "are illegal under international law," adding that all settlement activity "must stop."
Gibbs said that Washington's attitude to such announcements was well known.