MOSCOW (AFP) – The international Quartet for the Middle East met Friday in Moscow in a bid to revive the peace process despite tensions after Israel's announcement of new settler homes and a deadly rocket attack.
The Quartet -- made up of the United States, the United Nations, European Union and Russia -- is expected to pressure Israel after its announcement of the construction of 1,600 new settler homes in annexed east Jerusalem.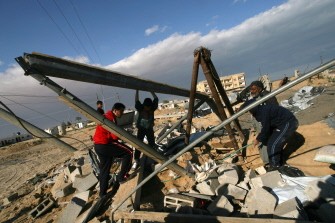 Palestinians inspect damages following Israeli air strikes in the southern Gaza. AFP PHOTO
The Israeli announcement led the Palestinians to call for a halt to peace talks and precipitated the worst crisis in US-Israeli relations in years, with senior US officials warning the plans jeopardized the peace process.
The timing also infuriated Washington, Israel's chief ally, coming as US Vice President Joe Biden visited the region.
The meeting at the Russian foreign ministry's guest house in Moscow brought together UN Secretary General Ban Ki-moon, US Secretary of State Hillary Clinton, Russian Foreign Minister Sergei Lavrov and EU foreign policy chief Catherine Ashton.
Also in attendance was former British prime minister Tony Blair, who is the Quartet's representative, an AFP correspondent said.
"I hope that all of us today can arrive at some common conclusion," said Lavrov as he opened the meeting, expressing hope that the gathering would create conditions for the renewal of peace talks.
A joint news conference is scheduled for 0830 GMT, after which Clinton is expected to hold talks with Russian President Dmitry Medvedev and Prime Minister Vladimir Putin in separate meetings.
Ashton's visit to Moscow comes a day after she made a rare trip by a top foreign official to the Gaza Strip that was overshadowed by fresh violence.
A rocket fired from the Gaza Strip on Thursday slammed into an Israeli kibbutz killing a Thai agricultural worker just a few kilometres (miles) from the Gaza border.
Hours later, Israeli aircraft hit several targets across the Gaza Strip but there were no reports of serious injuries, Palestinian security officials said.
Israeli Prime Minister Benjamin Netanyahu called Clinton late Thursday, US State Department spokesman Philip Crowley said, following a tense call last week when Clinton had asked Netanyahu to order a halt to the settler plans.
"They discussed specific actions that might be taken to improve the atmosphere for progress toward peace," he added without giving further details.
A statement from Netanyahu's office said he had suggested "mutual confidence-building measures" that could be carried out by Israel and the Palestinians, but gave no details.
The gathering is also a chance for Russia to reassert its status as a major player in the region, where it has seen its influence slip away after the fall of the Soviet Union.
Russia has contacts with Palestinian militant group Hamas as well as maintaining cordial ties with Israel. It believes it is in a strong position to help bring about peace.
Amid an intense flurry of diplomatic activity, Ban is to visit the Middle East, including Gaza, the West Bank and Israel, this weekend.
A senior Palestinian official told AFP on Thursday that the United States' special Middle East envoy George Mitchell would arrive in the region on Sunday for a visit that had been delayed by the row with Israel.
Originally, he had been scheduled for talks in Israel and the West Bank this week, but the visit was postponed after the settlement announcement.
Crowley however said later that Mitchell would meet with both sides "at some point after the Quartet meeting" although it remained to be determined when.
"The follow-on meetings to the Quartet are not set," he said.
"When we feel we have an understanding as to where both parties are and there's sufficient progress to justify meetings, we'll hold meetings."