MEXICO CITY, Sept 21, 2010 (AFP) - Mexico's government has scoffed at the idea of a truce in the country's drugs war after a newspaper which has seen two of its journalists shot dead pleaded with the cartels to name their terms.
President Felipe Calderon's spokesman for security matters insisted there could be no negotations with criminals after a Ciudad Juarez-based newspaper said it regarded the drug lords as the northern city's effective rulers.
"It simply is not appropriate in any way shape or form, for any party to try to make agreements with, promote a truce with, or negotiate with criminals," Alejandro Poire said on Monday.
In its front-page editorial, the El Diario de Juarez said the cartels should lay down its rules on what should appear in the papers.
"You are the de facto authority in the city now," the editorial said, referring to warring drug cartels that have killed over 2,000 people in Ciudad Juarez alone so far this year, despite the presence of some 4,500 federal police and military.
"We ask you to explain what you want from us, what you want us to publish or stop publishing."
The editorial was prompted by an attack by unidentified gunmen on two El Diario photographers last Thursday. One of the victims, 21-year-old Luis Carlos Santiago, died and his colleague Carlos Sanchez was seriously wounded.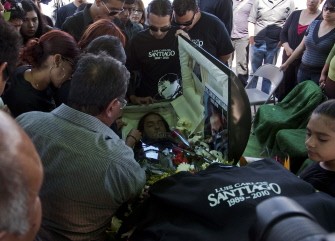 Relatives and friends of murdered Luis Carlos Santiago mourn next to his coffin during his funeral in Ciudad Juarez, on September 18, 2010. AFP
Santiago was the second journalist from El Diario to be killed in less than two years.
Mexico is one of the world's most dangerous countries for journalists, according to rights groups.
More than 30 journalists have been killed or gone missing as violence has surged since Calderon launched a military crackdown on organized crime in 2006, according to the New York-based Committee to Protect Journalists.
According to a report by LaPolaka.com, the US government has granted political asylum to Mexican reporter Jorge Luis Aguirre, who has been living in exile for two years in El Paso, Texas, after receiving threats on his life, which he attributed to authorities from the border state of Chihuahua.
It would be the first instance of a Mexican journalist given US political asylum, according to the media outlet. The US embassy in Mexico City told AFP it could not confirm the information because the case was confidential.
The spike in violence has caused many newspapers to censor coverage of the brutal drug war, sometimes omitting the names of cartels or ignoring certain attacks.
The Sinaloa and Juarez cartels are engaged in a bitter fight for control of this city of 1.3 million across the border from El Paso, Texas, one of the main points of entry for illegal drugs into the United States.
Some 28,000 people are believed to have died in drug gang-related attacks since 2006.