Russian President Dmitry Medvedev has personally donated 350,000 rubles (some $12,000) to the victims of wildfires raging across the central part of European Russia, RIA-Novosti quoted his spokesperson as saying on Saturday.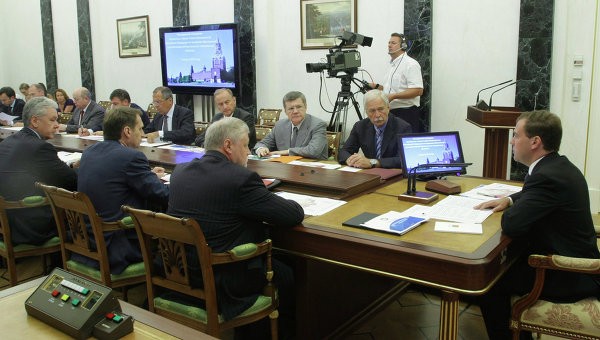 The Russian cabinet hold a meeting for resolution of wildfires in central Russia in Moscow on August 8, 2010. (Photo: RIA-Novosti
Over 50 people have so far been killed in the blazes, which have also left more than 3,500 people homeless. Forest and peat bog fires, sparked by an unprecedented heat wave, are currently burning in 22 Russian regions.
"It is expected that the president's example will be followed by other high-ranking officials," Natalya Timakova said.
She also said that Medvedev hoped ordinary people would also contribute to the fund to help those who have suffered in the disaster.
Medvedev earned 3,335,281 rubles (around $115,000) in 2009. He also has 12 bank accounts with a net balance of 3,574,747.34 rubles ($123,000).