"Traditional and new media are essential to the rule of law, good governance and democracy," UN Secretary General Ban Ki-Moon told participants of the 5th News Agencies World Congress (NAWC) in held Baku, source from VNS.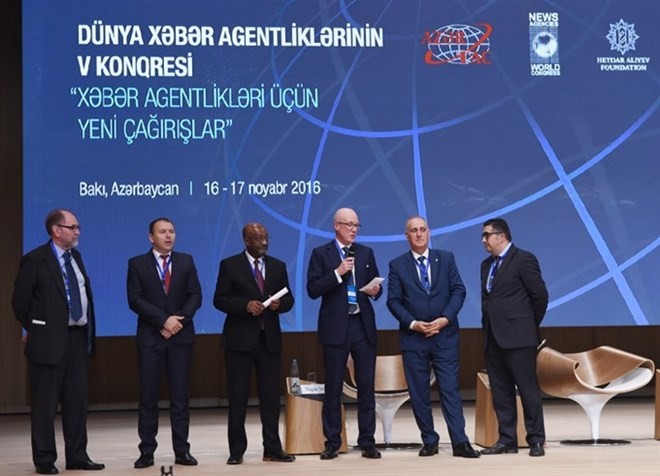 More than 200 guests from 80 countries representing more than 130 leading news agencies discuss burning issues at the 5th News Agencies World Congress held Baku. (Source: report.az))
President of the News Agencies World Council, CEO of Press Association Clive Marshal, presented the UN leader's message at the conference's closing ceremony on November 17. Deputy Director General of UNESCO Getachew Engida read out the UN Secretary-General`s message.
"Freedom of expression and the media are essential to this new global roadmap for people and the planet. News agencies have an extremely important role in disseminating timely, quality information.
Shifts in technology and business models have opened new avenues for freedom of expression around the world. Ever more people are able to access, produce and share information. This exchange of news and ideas, within and across national borders, has tremendous potential for good. On the other hand, the spread of misinformation, especially hate speech, presents grave risks to peace and progress. The news media have a particular responsibility to counter this by promoting tolerance and understanding and presenting the truth fearlessly.
The international community also has a responsibility to support free media and stand firm against forces that threaten inclusive and open societies.
In the past decade, at least 827 journalists have been killed in the line of duty – many, but by no means all, working in conflict zones. It is essential that their safety is preserved and respect for their profession observed.
Many more reporters for traditional and new media around the world have been threatened, detained and imprisoned for doing their essential work. Too often, such obstruction occurs with Government acceptance or collusion, and the perpetrators are able to act with impunity."
Vietnam News Agency General Director, Nguyen Duc Loi, joined almost 200 guests from 80 countries representing more than 130 leading news agencies to discuss burning issues concerning media, in general, and news agencies, in particular during the two-day event.
In the closing session, Director General of the Azerbaijan News Agency (AZERTAC) Aslan Aslanov officially undertook the NAWC presidency for the 2016-2019 term. Director General of the Bulgaria News Agency (BTA) Maxim Minchev became the Secretary General of the fifth NAWC.
The congress agreed the sixth NAWC will be held in Sofia, Bulgaria in 2019 and adopted the 2016 Baku Declaration.-