PHOENIX, Aug 24, 2010 (AFP) - US Senator John McCain easily claimed victory in an Arizona primary Tuesday, fending off a challenge seen as a test of the country's anti-incumbent mood as Americans decide in November who controls Congress.
The four-term senator and defeated Republican presidential nominee was well ahead of congressman and conservative talkshow host J.D. Hayworth when he gave his victory speech, but his rival waged a serious enough campaign to force the once moderate McCain to beat a hasty path to the right.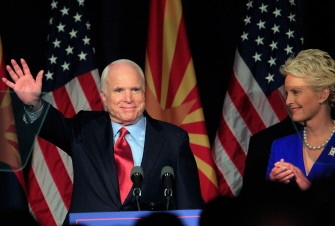 John McCain speaks to a group of supporters alongside his wife Cindy at his victory party after winning Arizona's primary election August 24, 2010 in Phoenix, Arizona. AFP
In 10 weeks he squares off against a Democratic challenger.
"We all know that this election is not over. We have more than two more months of hard campaigning ahead of us, and I'm sure we will face a spirited challenge from the Democratic Party's nominee," McCain told supporters.
"I promise you, I take nothing for granted."
The race was among several primary votes being examined for signs of whether anger at Washington will unseat incumbents hoping to win their party's nomination to run for various political offices in the mid-term elections.
Arizona voters headed to the polls amid an extended heat warning and high humidity, that encouraged many, including McCain and Hayworth, to cast their ballots early.
Election officials said only a quarter of eligible voters were participating in the primary, with some voters saying they were tired of the negative tone of the race.
The rhetoric turned angry when Hayworth criticized McCain's stance on immigration and border security, saying the senator was disengaged and had let his constituents down.
"You're no longer a statesman, you're simply a political shape shifter," Hayworth said at a campaign debate last month. "Shame on you."
The campaign of McCain, who vastly outspent his opponent, struck back, repeatedly pointing to ties between Hayworth and Washington lobbyist Jack Abramoff, who was imprisoned on conspiracy and tax evasion charges in 2006.
The Arizona Senate primary was the most high-profile of the votes held Tuesday, but just one of several pitting old-guard Washington politicians against insurgent candidates, often with significantly more radical views.
In Florida, voters handed victory in the Democratic Senate primary to former congressman Kendrick Meek, who was supported by both President Barack Obama and former president Bill Clinton.
His victory over Jeff Greene, a billionaire real-estate investor running as an outsider who spent an estimated 20 million dollars on his campaign, suggested that insurgent challengers could not overcome establishment candidates across the board.
Florida's Republican primary was easily won by Marco Rubio, a hardliner whose challenge prompted the one-time frontrunner for the nomination -- Governor Charlie Crist -- to drop out of the race and register as an independent.
Crist's fate had underlined fears among many Republicans that the conservative Tea Party movement, which embraced Rubio, would help oust moderate Republicans from power.
Rubio insisted Tuesday that Floridians -- and Americans in general -- saw his positions of lower taxes, less government spending, a stronger private sector and US military supremacy as anything but fringe stances.
"Our positions are mainstream positions," he told Fox News after his victory.
McCain's own win shows that long-time Republicans can demonstrate staying power despite apparent widespread discontent with Washington.
Elsewhere in Arizona, observers were watching a North Phoenix congressional race in which 10 Republicans were vying for the nomination, including Ben Quayle, the 33-year old son of former vice president Dan Quayle who was leading the field with one third of votes counted.
And the state's Governor Jan Brewer cruised to an easy primary victory, defying those who wrote her off as unelectable after a state fiscal crisis by winning massive support for a tough bill targeting illegal immigrants.
Other primaries were being held in Vermont, where Senator Patrick Leahy, a 36-year incumbent, easily won the Democratic primary, and in Alaksa.