A senior executive with US toy giant Mattel apologised Friday to China over massive recalls of products made in China, saying the cause was design flaws committed by the US company itself.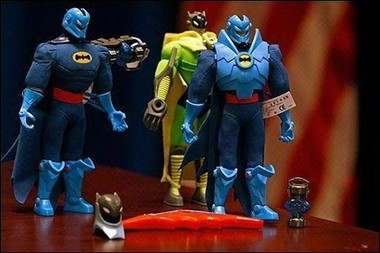 Mattel Inc. Batman action figure sets, which have been recalled.(AFP Photo)
Thomas Debrowski, Mattel's executive vice president of worldwide operations, made the remarks while meeting in Beijing with Li Changjiang, the head of China's top agency in charge of supervising product quality.
"Mattel takes full responsibility for those recalls and I would like to apologise personally to you, the Chinese people and all of the customers who received toys that have been manufactured," Debrowski said.
"These recalls have been very, very devastating to our company. We make products for 150 countries around the world, but no one has been hurt more by the recall other than Mattel," he told Li in front of a group of reporters.
Li is the head of China's General Administration of Quality Supervision, Inspection and Quarantine.
"It is very important for everyone to understand that the vast majority of those products recalled were the result of a design flaw in Mattel, not through the manufacturing flaw in China's manufacturers," Debrowski said.
Mattel recalled around 848,000 toys earlier this month -- its third recall of Chinese-made products this summer -- due to high lead levels in the paint used.
The move came after the company last month recalled 18 million Chinese-made products worldwide over high lead levels and small magnets that have seriously injured at least three children.
China had earlier blamed the Mattel recalls largely on design faults by the company, and said only 15 percent of the toys targeted in earlier recalls contained excessive amounts of lead.