MANILA, Sep 2 (AFP) – Fifteen muscular gay men strut the stage in a whirlwind of sequins, feathers, gold and glitter while a transvestite dressed as Lady Gaga performs the American pop-star's latest hit.
The scantily clad men are vying for the crown of "Mr Gay World Philippines" and Filipino-Arab fashion designer Sherwin Abuel wins the title in a crowded suburban Manila nightclub after wowing the judges on the catwalk.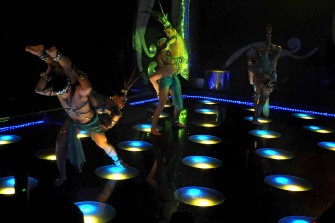 This photo taken on August 7, 2010 shows transgender performers putting on a cabaret show at Club Mwah Manila in the Philippine capital Manila. AFP
The contestants were required to compete in traditional pageant categories such as "Best in swimwear", "Best in formalwear" and "Mr Congeniality".
But the contest was also about promoting equal rights, and Abuel started his reign as Mr Gay with an expression of pride.
"Being gay is not my choice. I was born with it and I love it," said Abuel, 34, who will represent the Philippines when it becomes the first Asian country to host the annual Mr Gay World contest next year.
The Philippines is a devoutly Catholic country but Abuel said he had never faced discrimination.
Organisers of the Mr Gay World contest said this was one of the main reasons why the Philippines was chosen to host the global contest in March next year, after the first two events were held in Canada and Norway.
The vice chairman of Mr Gay World Philippines, Mac Bordallo, pointed to conservative Muslim religious values in countries such as Malaysia as reasons for not hosting the event there.
He said efforts to establish a presence in China also failed last year when police stopped them from hosting a national Mr Gay contest.
And while Bangkok may have a reputation for being Asia's most gay-friendly metropolis, Bordallo said Manila was increasingly attracting the pink tourist dollar.
"Foreigners have only known Thailand as a gay tourist destination, but this is changing", Bordallo said.
He said the Mr Gay World event was expected to bring in many more gay tourists, and organisers were already preparing packages to some of the country's best destinations such as the tropical island of Borocay.
In Manila, the gay entertainment scene has exploded over the past decade, according to Glenn Maboloc, president of the non-government organisation KRYSS, which promotes gender equality, human rights, and sexual health for the youth.
"The gay nightlife took off in the late '90s," Maboloc said.
"These days, the daily haunts have extended to massage parlors and gay bars, the type that feature men dancing half-nude on the stage.
"Comedy bars where most of the entertainers are gay or transgender have also become hugely in demand of late."
Manila also boasts a range of drag-shows, with the Moulin-Rouge-style cabaret at Club Mwah, which opened in 2004, one of the top attractions.
At Club Mwah, transexual performers in flamboyant costumes regale a mainly local audience with song and dance numbers from gay icons such as Liza Minnelli and Diana Ross.
Of the nightclubs, Bed has remained one of the most popular since opening its doors in 2003.
On a national level, there are many examples of acceptance for gay men despite opposition from the Catholic church and a macho culture in which boxing and cock-fighting are two of the male population's favourite pastimes.
The Philippines made headlines when it held the first gay pride march in Asia in 1994 and it recently became the first country in Southeast Asia to have an official gay political party.
That party -- Ang Ladlad (Out of the Closet) -- said it attracted more than 120,000 votes in the May national elections.
The Philippines also allows gays to serve in its armed forces.
But gay rights advocates say much more work lies ahead.
There are no anti-discrimination laws in the Philippines and same-sex relationships are not officially recognised.
An anti-discrimination bill that seeks to "prohibit discrimination on the basis of sexual orientation and gender identity" was first submitted to parliament in 1999, but has never been passed.