The government in the Maldives is set to hold its first underwater cabinet meeting Saturday to attract international attention to the dangers of global warming, a spokeswoman said.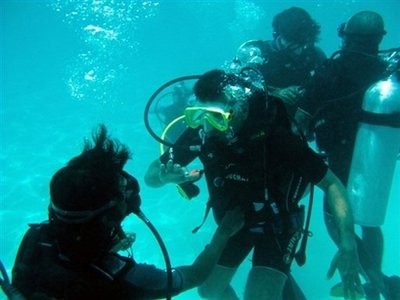 In this handout picture released by the Maldives Presidency, Maldives cabinet ministers are photographed underwater off Girifushi Island on October 16. (AFP Photo)
President Mohamed Nasheed, dressed in full scuba gear, is to conduct the 30 minute meeting at a depth of six meters (20 feet) just north of the capital Male from 0500 GMT, event coordinator Aminath Shauna said.
Most of the island nation, a tourist paradise featuring coral reefs and white sand beaches, lies less than one metre (3.3 feet) above sea level and scientists have warned it could be uninhabitable in less than 100 years.
Shauna said the ministers had already signed their wetsuits, which would be auctioned on the protectmaldives.com website, due to be launched later Saturday, to raise money for coral reef protection in the atoll-chain.
"All arrangements are in place for the underwater meeting," she said.
The government has arranged a horseshoe-shaped table on the seabed for the ministers, who will communicate using white boards and hand signals.
The Divers Association of Maldives (DAM) said the ministers, who had trained over the past two months, felt confident about the unprecedented meeting.
Of the 14-member cabinet, three ministers will not take part in the dive, two of whom have medical conditions while the third was currently in Europe.
The Maldives, located southwest of Sri Lanka, has become a vocal campaigner in the battle to halt rising sea levels.
In 2007, the UN's Intergovernmental Panel on Climate Change warned that a rise in sea levels of 18 to 59 centimetres (seven to 24 inches) by 2100 would be enough to make the country virtually uninhabitable.
More than 80 percent of the country's land, composed of coral islands scattered some 850 kilometres (530 miles) across the equator, is less than one metre (3.3 feet) above sea level.