HONG KONG, July 9, 2011 (AFP) - About 80 Malaysians marched through central Hong Kong Saturday to support a simultaneous mass rally for electoral reforms back home where riot police fired tear gas and water cannon.
Hundreds of people have been arrested in the Malaysian capital Kuala Lumpur, after they defied baton-carrying riot officers and joined thousands of others in attempts to rally in a stadium to demand free and fair elections.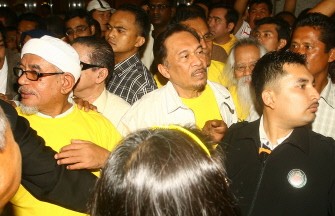 AFP - Malaysian opposition leader Anwar Ibrahim (C) and President of the Parti Islam SeMalaysia (PAS) Hadi Awang (L) are surrounded by supporters after holding a press conference during a mass rally calling for electoral reform in Kuala Lumpur on July 9, 2011.
Wearing yellow T-shirts, the colour of poll reforms group Bersih 2.0, which means clean, that organised the Malaysian rally, the group in Hong Kong chanted slogans and submitted a memorandum to the Malaysian consulate.
"We, Malaysians residing in Hong Kong, support Bersih 2.0 call for free and fair elections," spokesman Brandon Tan said, as he condemned the violence by Malaysian police and said he was "very upset" over the mass arrests.
"They should learn from the Hong Kong police. They escorted us, helped us and gave us guidance as we marched through the city," said the 36-year-old.
The rally in Hong Kong was part of a global demonstration simultaneously planned for 30 cities in support of Bersih 2.0, including in Australia, Japan, France, the United States, United Kingdom, South Korea and Taiwan.
Malaysia's opposition made unprecedented gains in 2008 elections against the ruling coalition but said they could have won more if elections rules were fair.
The country's next elections are widely expected to be called early next year.