KUALA LUMPUR, July 9, 2011 (AFP) - Malaysian police said Saturday they have arrested nearly 1,000 people during a crackdown on a huge protest demanding electoral reforms.
An official police Facebook page giving updates on the demonstrations said 924 people have been arrested, including legislators aligned with opposition leader Anwar Ibrahim.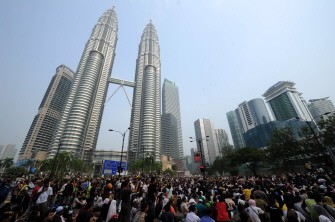 AFP - Protesters take part in a mass rally calling for electoral reform in front of Malaysia's iconic twin towers in Kuala Lumpur on July 9, 2011.
Among those arrested was Abdul Hadi Awang, president of the Pan-Malaysia Islamic Party (PAS), the country's biggest opposition party, and Ambiga Sreenivasan, leader of Bersih, the coalition that organised the protests.

He was arrested near a train station as police imposed a massive lockdown on the capital Kuala Lumpur to thwart the demonstrations.
"Abdul Hadi has been arrested by police and taken to a police station. He was detained near KL Sentral (train station)," said Zulkifli Sulong, editor of the online Haraka News, the PAS' mouthpiece.

The protesters, however, showed no sign of dispersing.
Student Chew Ai Nee, 30, said: "We have to take to the streets because we have not been given any opportunity to express our demands for change... the government cannot silence us when we march."
Many of the protesters were shouting "Reformasi" (Reforms), "God is great" and "Long Live the People."
However, Mukhriz Mahathir, a leading member of the powerful United Malays National Organisation (UMNO), told AFP the government had to act to prevent anarchy.
"We cannot allow a minority group to protest and stir trouble in the country," he said, accusing protesters of provoking the police into firing tear gas "so that they can accuse the government of being heavy handed."
UMNO is the dominant party in the ruling Barisan Nasional coalition led by Prime Minister Najib Razak.
New York-based watchdog Human Rights Watch (HRW) denounced the arrests.
"This is a maelstrom of the Malaysian authorities' own making," said Phil Robertson, deputy director for HRW's Asia Division.
Downtown Kuala Lumpur, normally a hive of activity on weekends, was deserted as major roads into the commercial and tourist district were sealed off.
Meanwhile, about 30 Malaysians living in South Korea rallied in Seoul in support, after organisers called for solidarity walks and demonstrations in countries including Australia, Cambodia, Japan, the United States and Taiwan.
Fears of violence in Malaysia have been highlighted because of plans by pro-government groups to hold a counter-rally.
The demonstrators want reforms, including the eradication of vote buying and the prevention of irregularities such as people illegally voting several times during elections.
Bersih wants to see the use of indelible ink to prevent multiple voting, equal access to the media for all parties and the cleaning-up of electoral rolls.
Malaysia's opposition made major gains in 2008 elections against the ruling coalition but said they could have won more if voting rules were fair.
The country's next elections are widely expected to be called early next year, with the opposition aiming to end Barisan's half century rule.