KUALA LUMPUR, July 10, 2011 (AFP) - Malaysian Prime Minister Najib Razak on Sunday defended the government's handling of street protests amid intense criticism heightened by the death of a demonstrator.
Riot police fired tear gas and water cannon at thousands of protesters who were demanding electoral reform on Saturday, sparking scenes of mayhem in the capital Kuala Lumpur and stinging criticism from human rights watchdogs.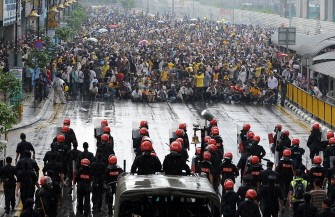 AFP file photo taken on July 9, 2011 shows protestors challenging police during a mass rally in Kuala Lumpur.
Officers also arrested more than 1,600 people, including prominent opposition figures, in the crackdown although the police said all had been freed by midnight Saturday.
Observers said the death of a 59-year-old taxi driver who collapsed while running away from tear gas could further stoke anti-government sentiment.
Baharuddin Ahmad, a former soldier, was fleeing after police fired gas canisters when he collapsed, his brother Mohamad Sharin told AFP. He was dead by the time he arrived at hospital.
Baharuddin, a member of the opposition Pan-Malaysia Islamic Party (PAS), was buried Sunday at a Muslim cemetery Sunday, with about 300 people attending the funeral.
"We are proud of him, he died in a struggle," his daughter Umi Mirza, a doctor, told AFP at their home in a northern suburb.
Police spokesman Ramli Mohamed Yoosuf confirmed the death but said the man was a bystander who had died of a heart attack.
"When he attended the peaceful rally, it was for our future, for peace, for justice, for truth, for democracy and for a clean and fair election," Lim Guan Eng, chief minister of the opposition-ruled state of Penang, told Baharuddin's family after the funeral.
"It's a struggle we have to do together. Let them not steal our children's future, it's a cry of the common people."
Speaking at a government function Sunday, Najib lashed at the opposition-backed protesters saying they were trying to paint a picture of Malaysia as a repressive state, according to the official Bernama news agency.
"They said they wanted to hold a peaceful rally. If the police had not monitored it, it would not have been peaceful," the prime minister said.
"We dislike chaos. We like peace. We like a country where the people live in harmony."
Najib also accused opposition leader Anwar Ibrahim of masterminding the rally and manipulating rally organisers to beef up support for his ambition to become the new prime minister, Bernama reported.
"He knows that if he does not do anything, we (the ruling Barisan Nasional coalition) will win in the 13th general election," Najib said.
"This is the last chance for him. When people know that this is their last chance, they will do everything, good or bad."
Anwar was hospitalised with minor injuries after being knocked down in the chaos on Saturday.
The Anwar's opposition scored major gains in a general election in 2008, denying the ruling Barisan Nasional an outright two-thirds majority for the first time since 1969.
Fresh elections must be held by spring 2013 but Najib is expected to call for a vote in early 2012.
The opposition believes it would have done even better in 2008 if voting had been more fair.
There has been increasing demand by the opposition and non-government groups for changes to put a stop to vote buying and prevent irregularities which they say marred previous polls.
They want indelible ink to be introduced to prevent multiple voting, equal access to the media for all parties and the cleaning-up of electoral rolls.
Najib however said the government also favoured clean elections, adding that democratic principles would be defended.
"We will ensure democracy and a free and clean general election," he said.
But analysts said the crackdown against the protesters could backfire on the government and tarnish Malaysia's international image as one of Southeast Asia's more democratic countries.
Rights groups and opposition leaders have also condemned the government's handling of the rally, which the police had declared illegal.
Amnesty International spokeswoman Donna Guest called Saturday's crackdown "the worst campaign of repression we've seen in the country for years".
New York-based watchdog Human Rights Watch (HRW) also denounced the arrests.
"This is a maelstrom of the Malaysian authorities' own making," said Phil Robertson, deputy director for HRW's Asia Division.