Malaysian police arrested more than 400 people and used tear gas as a massive lockdown was imposed on the capital to thwart an opposition-backed rally demanding electoral reforms.
Police spokesman Ramli Mohamed Yoosuf on Saturday told AFP the arrests were made from midnight around Kuala Lumpur. Police have declared the protest illegal, warning of chaos in the streets.
"They were arrested mainly for illegal assemblies around various points in the capital," Ramli said, insisting that no violence used in the 441 arrests.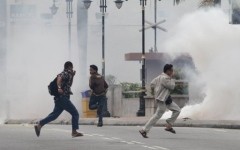 Malaysian police fire a tear gas onto protestors prior to a mass rally organised by Bersih 2.0 calling for electoral reform in Kuala Lumpur, on July 9Photo: AFP
Despite the detentions, about 1,500 people, many of them shouting "Reformasi" (Reforms) and "God is Great" marched towards a mosque near the downtown Merdeka Square, an AFP reporter saw.
About 300 others who gathered at a railway station were dispersed by police who shouted and ordered them to leave, resulting in scuffles and shouting as some who resisted were put into police vans, an AFP photographer said.
Downtown Kuala Lumpur, normally a hive of activity on weekends, was deserted as major roads into the commercial and tourist district were sealed off.
Hundreds of policemen, many armed with batons and anti-riot gear and backed by water cannon, have been deployed in strategic locations around the capital.
Several shops in the main shopping and commercial district surrounding the landmark 88-storey Petronas Twin Towers were closed.
Public transport plying city routes was diverted, while long-distance buses were halted at terminals outside Kuala Lumpur.
Fears of violence have been highlighted because of plans by pro-government groups to hold a counter-rally.
The police barricades created huge traffic jams overnight as officers checked every vehicle for protesters attempting to sneak in ahead of the rally, which comes ahead of polls due by early next year.
"The police will take whatever action within their power to guarantee that safety and public security is maintained in this country," federal police chief Ismail Omar warned late Friday.
But rally organisers said they will not back down and would gather outside the iconic Merdeka Stadium in downtown Kuala Lumpur at around 0600 GMT in the hope police would allow them to enter the stadium to preserve safety.
The protest is spearheaded by Bersih, a broad but loose coalition of groups, including non-governmental organisations and opposition political parties.
The demonstrators want reforms that will prevent some people being allowed to vote several times during elections.
The opposition made major gains in 2008 elections against the ruling Barisan Nasional coalition but said they could have won more if elections rules were fair.
Prime Minister Najib Razak has defended tough police action against the rally and denied Malaysia was moving away from democracy.
Before Saturday's roundup, around 230 people had been arrested since June 25, including six under a strict security law that allows for detention without trial.
The last rally in 2007 demanding electoral reforms organised by opposition parties attracted about 50,000 protesters.
Malaysia's next elections are widely expected to be called early next year, with the opposition aiming to end Barisan Nasional's half a century rule and the ruling party also hoping to recover from its losses.