NEW ORLEANS, Louisiana, Apr 29 (AFP) – A giant oil slick threatened Thursday to pollute the fragile wetlands of Louisiana, as officials warned that toxic crude was pouring into the Gulf of Mexico five times faster than previously thought.
Louisiana Governor Bobby Jindal called on the US government for emergency help to stave off an environmental disaster after a sudden change in the wind direction turned week-long response efforts on their head.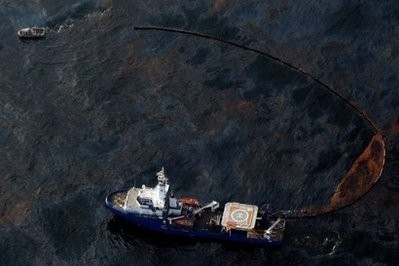 A boat uses a protective boom to collect oil leaking from the Deepwater Horizon wellhead in the Gulf of Mexico. AFP photo
In another massive blow, the US government's National Oceanic and Atmospheric Administration (NOAA) announced that more than 200,000 gallons of oil a day were now thought to be streaming into the sea from the debris of the Deepwater Horizon rig, which sank off the US southern coast last week following a deadly explosion.
British energy giant BP, which leases the rig and has been leading the response to the disaster along with the US Coast Guard, acknowledged the new leak but said it believed the flow of oil was unchanged at 1,000 barrels, or 42,000 gallons, a day.
Jindal said NOAA reports also suggested that a portion of the slick, which has a 600-mile (965-kilometer) circumference, had broken off and due to strong onshore winds could hit coastal nature reserves as early as Thursday.
"At this time, the Pass-A-Loutre Wildlife Management Area is expected to see the first impact of the oil spill," he said, adding that he had spoken to US Homeland Security chief Janet Napolitano to seek additional assistance.
More than 20 miles (30 kilometers) of booms, inflatable barriers that float on the sea surface and are intended to contain the spill, have been placed along the Louisiana coast but Jindal said more were needed.
Crews began a controlled "trial" burn Wednesday of the thickest parts of the giant slick but a cruel change in the wind direction threatened to undo their good work and become a far more important factor.
Two skimming vessels dispatched by the US Coast Guard and British Petroleum (BP) swept dense concentrations of oil in the center of the slick into a 500-foot (150-meter) fire-resistant boom.
They then towed it to a five-mile "burn zone" inside the slick, roughly 50 miles south of the mouth of the Mississippi river, where it was set alight by a fuel source on a special float and allowed to burn for approximately one hour.
Similar efforts on past spills have burnt off between 50 and 90 percent of the oil captured and crews planned to conduct several more burns in the coming days to try and keep the slick at bay.
Nevertheless, Charlie Henry, a scientific support coordinator from NOAA, said there was a "high risk" that strong southeasterly winds would push emulsified oil and "tar balls" into the Mississippi delta area by Friday night.
If large quantities of the crude drift into Louisiana's marshy wetlands, mopping it up would be next to impossible.
It would be disastrous for natural parks full of waterfowl and rare wildlife and could also imperil the southern state's 2.4-billion-dollar-a-year fisheries industry, which produces a significant portion of US seafood.
The Deepwater Horizon platform sank last Thursday, two days after a huge explosion that killed 11 workers.
The accident has not disrupted offshore energy operations in the Gulf, which account for 30 percent of all US oil production and 11 percent of domestic gas production.
BP, which leased the semi-submersible rig from Houston-based contractor Transocean, has been operating four robotic submarines some 1,500 meters (5,000 feet) down on the seabed to try and cap the ruptured well.
They have failed so far to fully activate a giant 450-tonne valve system, called a blowout preventer, that should have shut off the oil as soon as the disaster happened but only partially reduced the flow.
As a back-up, engineers are frantically constructing a giant dome that could be placed over the leaks to trap the oil, allowing it to be pumped up to container ships on the surface.
Another Transocean drilling rig is also on stand-by to drill two relief wells that could divert the oil flow to new pipes and storage vessels.
But that would take up to three months and the dome is seen as a better interim bet even though engineers need two to four weeks to build it.
Coast Guard Rear Admiral Mary Landry, who is leading the government's response to the disaster, warned that if the well is not secured the spill could end up being one of the worst in US history.
This was before announcing herself the new NOAA leak figure of 5,000 barrels a day.