Engineers prepared Monday to begin drilling a rescue shaft to 33 trapped Chilean miners, but officials have warned it will likely be Christmas before their ordeal is over.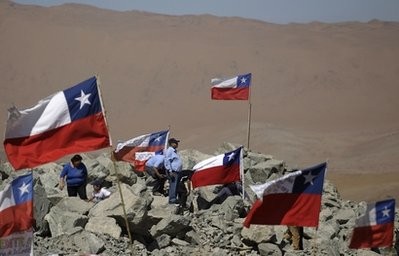 Relatives of 33 miners trapped alive in the San Jose mine stand among Chilean flags outside the mine in Copiapo, Chile, Sunday Aug. 29, 2010.
After 25 days languishing in hot, dank conditions in the San Jose gold and copper mine, some have developed fungal infections and body sores and others are exhibiting signs of depression.
A giant Strata 950 drilling machine was "ready" to go apart from a jackhammer that was still en route to the mine, located some 500 miles (800 kilometers) north of Santiago, a government official told AFP.
The drill will first bore a 33-centimeter (13-inch) wide pilot hole. This must then be doubled using a special drill bit to 66 centimeters -- wide enough to lower a rescue capsule down to pull out the miners one by one.
Expected to take three to four months, the miners will have to work in shifts around the clock to clear rocks and debris falling from above, all the time hoping the precarious operation does not cause another collapse.
"They will be helping us. They will be giving us clear information on the state of the mine," said lead engineer Jorge Sanhueza.
The final rescue will be at night to protect the miners from the sunlight. It will take three to four days as each worker must be painstakingly raised over the course of one or two hours from 702 meters (2,303 feet) below.
The miners' heroic tale came to light when a note scribbled in bold red letters was found tied to a drill probe on August 22, by which time all hope for their survival was thought to have been extinguished.
A captivated nation heard how the miners managed to make 48 hours-worth of emergency supplies last an astonishing 17 days, digging into the ground to get water to keep themselves alive.
After a request from the Chilean government, the US space agency NASA said Monday it would dispatch a team this week to help efforts to keep the miners fit and healthy.
Expertise of how astronauts deal mentally and physically with arduous space journeys could help the miners cope during the long months ahead in their dark, subterranean world.
"The environment may be different, but the human response in physiology, behavior, responses to emergencies is quite similar," said NASA deputy chief medical officer Michael Duncan, one of the four-strong team.
Duncan will be accompanied by a NASA engineer, a psychologist and a second medical doctor.
Conditions for the trapped miners improved at the weekend as they were sent dry clothes, food supplies and games to occupy their time. Some received mats to sleep on to protect them from the damp ground.
Miner Johnny Barrios, the designated doctor among the group due to his brief medical training, gave his colleagues vaccinations against tetanus and will administer flu shots on Wednesday.
Smokers have been denied cigarettes, but given nicotine patches to help them cope with withdrawal symptoms.
Chilean Mining Minister Laurence Golborne has rejected reports that other plans are under consideration that could see the miners rescued in as little as one month.
"We have reviewed 10 different options," he told Radio Cooperativa.
"So far there is no alternative... that would allow us to get them out in 30 days."
Limited to one minute per miner, wives, mothers and fathers lined up on Sunday for their first person-to-person conversations with their loved-ones by telephone.
"To hear his voice was a balm to my heart," said Jessica Chille after speaking to her husband, Dario Segovia.
They tried to stay upbeat and the conversations were morale boosters for the miners, who until now have only been able to exchange written notes and group videos relayed through the narrow shafts.
"I didn't break down until I told him: 'Ciao, my little boy, we will see each other,'" said Alicia Campos, after speaking to her son Daniel Herrero. "His voice is the same. He's not good, but not so bad either."
Some family members were clearly impatient that nothing could be done more quickly.
"They told us the drilling was starting today, the 'Plan A' as they are calling it," Alfonso Avalos, father of stricken miners Florencio and Renan, told AFP.
"It's a big shame that there is no other quicker plan because four months is a long time."