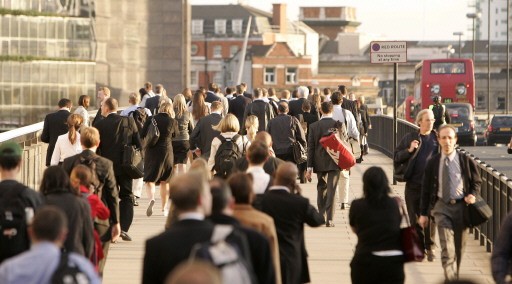 London commuters cross London Bridge Sep. 3, 2007 after the Rail Maritime and Transport (RMT) union went ahead with the 72-hour walk-out in a dispute over the collapse of a maintenance group. (AFP Photo)
London commuters battled severe transport disruption to get to work Tuesday as unions staged a second day of strikes on the capital's underground system.
Some 2,300 workers from the Rail, Maritime and Transport Workers' union (RMT) began 72 hours of industrial action on Monday evening over fears of job losses and pension cuts after the collapse of a tube maintenance firm.
Nine out of the capital's 12 underground lines were totally shut down, while another was part suspended, forcing commuters to use buses, overland trains or simply walk to work.
Metronet, a privately-owned group that maintains most of the London Underground train network, went into administration in July after running out of funds.
The RMT's members maintain tracks, trains and signals on most of the network, including some of the busiest lines like the Victoria, Central and District lines.
Only three of London's tube lines -- Jubilee, Northern and Piccadilly line services, which are maintained by another firm -- continued working.
But even services here were patchy in parts and those trains which did run were severely overcrowded.
Though two unions representing some 900 workers called off their strike threat after accepting assurances from Transport for London (TfL), which runs the city's public transport systems, over jobs, transfer and pensions, the RMT warned of another three-day strike next week if the dispute was not resolved.
Analysts estimate the strike could cost London's businesses some 50 million pounds (100 million dollars, 75 million euros) a day.
TfL officials said, however, that union claims that they had not received assurances regarding their concerns were incorrect.