TUNIS, Aug 20, 2011 (AFP) - Libya's former number two, Abdessalem Jalloud, left for Italy via Tunisia on Saturday, a senior Tunisian government official told AFP.
Jalloud, who was a former prime minister ostracized from Moamer Kadhafi's regime, had earlier been reported to have fled to rebel-held territory.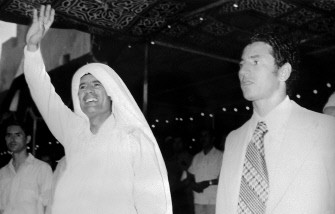 AFP - (FILES) A picture taken in June 1975 shows Libyan leader Moamer Kadhafi (L) waving at the crowd in Tripoli as he walks with Abdessalam Jalloud
He took "a plane for Italy from Djerba airport at 3:40 am (0240 GMT)", an airport official on the resort island told AFP.
The government official said "Jalloud left at dawn from Djerba airport for Italy with his family".
Another source said Kadhafi's former close aide had arrived in Tunisia overnight Friday.
In the Italian capital foreign ministry spokesman Maurizio Massari would not confirm or deny the report.
"We are verifying this information," he said.