Libya

's opposition on Saturday ordered all militia to disband and come under their control after the slaying of one of the top military commanders in the rebellion against Moamer Kadhafi.
"The time has come to disband these brigades. Anybody who refuses to take part in this decree will be tried with the full measure of the law," said Mustafa Abdel Jalil, chairman of the National Transitional Council.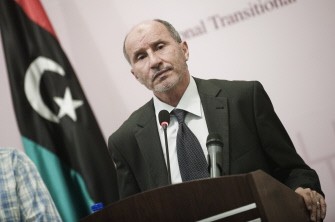 National Transitional Council chairman Mustafa Abdel Jalil gives a press conference in the Libyan rebel-stronghold city of Benghazi on July 30, 2011
The fighters belonging to these groups would be absorbed by the interior ministry, Abdel Jalil told a news conference in the eastern rebel stronghold of Benghazi.
The move comes three days after the NTC announced the murder of General Abdel Fatah Yunis, who was the faithful right-hand man of Kadhafi before defecting to rebels who have been fighting to oust the strongman since February.
Yunis was shot dead by an armed group after he was summoned from the front by the National Transitional Council "for questioning over military issues," Jalil said late on Thursday.
The assassination fuelled widespread rumours and unconfirmed reports on the identity and motives of the perpetrators.
Another member of the NTC, Ali Tarhuni, said on Saturday that those who killed Yunis as he was on his way to questioning were members of the Jarah Ibn al-Obeidi brigade.
Tarhuni said at the time that militias in Benghazi had three choices -- joining rebel armed forces in the front, joining security services in the city, or laying down their arms.
dsg/dv