Libya's rebels claimed control of Brega on Monday, as most pro-Kadhafi troops retreated westward leaving around 150-200 loyalist fighters pinned down inside the oil town, a spokesman said.
"The bulk of (Moamer) Kadhafi's forces have retreated to Ras Lanuf," rebel spokesman Shamsiddin Abdulmolah told AFP, referring to another oil hub about 50 kilometres (32 miles) to the west.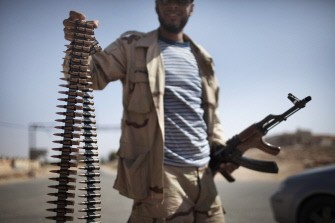 A Libyan rebel holds a bullet belt at the Western gate of the front line town of Ghualish July 12, 2011.
Abdulmolah added that the remnants of Kadhafi's troops were holed up among industrial facilities in Brega with supplies dwindling.
"Their food and water supplies are cut and they now will not be able to sleep," said Abdulmolah as the latest battle for Brega entered its fifth day.
"It's a matter of time before they come to their senses, we hope to prevent some bloodshed."
Taking the town would be a major victory for the rebels, boosting morale and recapturing infrastructure that is vital to Libya's economic future.
Brega is a major centre for channelling the pipelines of the oil-rich Sirte Basin to the rest of the world.
Fighters on the ground reported no signs so far that those oil installations have been set on fire or sabotaged, but Abdulmolah said the area has been heavily mined.
Libya's warring armies have been fighting over Brega since Thursday when rebel forces launched a three-pronged attack on the town, which has switched hands multiple times, but which had been under Kadhafi control since April.
Rebel troops approached from the northeast, east and southeast, surrounding Kadhafi's forces and reaching the outskirts of the city's eastern-most tip on Friday before pulling back to allow for NATO bombardments.
Since then it has been a steady advance.
Nestled on the Gulf of Sirte, Brega is made up of three areas, a residential area in the east, a major oil facility in the west and an old town in between.
But after a series of military gains were washed away by hasty and badly coordinated advances, rebel commanders were anxious to make sure they have a unified offensive line before their final push.
But the complete occupation of Brega may still have to wait.
"Most of the troops going in right now are anti-mine teams," said Abdulmolah. "We have found an extraordinary number of anti-personnel mines."
He added that the effort to clear the ordnance is being hampered by missile attacks from the village of Bishr around 20 kilometres (13 miles) away.
The rebels hope that a phalanx of their fighters which swept past Brega from the south will soon take out those positions.
"We hope to take Bishr today" said Abdulmolah.
The victory has come at a price. Around 15 rebel fighters have been killed and 274 wounded since the battle began.
The toll on Kadhafi's troops is not known.
In its latest operational update released on Monday, NATO reported hitting "nine armed vehicles, two armoured fighting vehicles and a command and control node" in the Brega area.
A series of blasts also rocked Tripoli on Sunday after Kadhafi vowed never to go into exile, with at least 13 explosions heard before and just after 01:00 am (2300 GMT Saturday).
Southwest of the capital, rebel fighters exchanged rocket and machine gun fire with Kadhafi's forces early on Sunday both in the Nafusa Mountains and in the plains below around Bir Ayad, a key junction on the road to Tripoli, AFP correspondents reported.
Meanwhile rebels were angered by Russia's refusal to recognise the rebel National Transitional Council as Libya's official authority.
Foreign Minister Sergei Lavrov said last week's recognition by Western and regional powers of the opposition government at the expense of Kadhafi's regime was tantamount to picking sides in a civil war.
"It just doesn't make sense," said NTC spokesman Abdulmolah, responding to the statement. "It is black and white. They should recognise the council as other major powers."