GUALISH, Libya, July 7, 2011 (AFP) - Libyan rebels fighting to oust Colonel Moamer Kadhafi pressed ahead on Thursday with day two of a NATO-backed offensive after seizing a desert hamlet some 50 kilometres (30 miles) from Tripoli.
Reinforced with fresh French weapons parachuted into the North African country, and coordinating with NATO-led air strikes aimed at destroying Kadhafi's frontline armour, the rebels attacked the regime's forces in the plains southwest of the capital.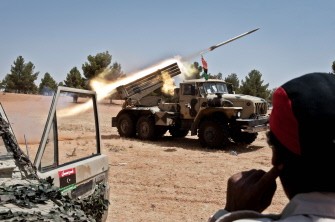 AFP - Rebel fighters fire a grad rocket launcher towards Kadhafi forces in Gualish during heaving fighting on July 6, 2011
The area targeted by the rebel offensive is seen as strategic as it also features the garrison city of Gharyan, a government stronghold in the Nafusa mountains.
"We waited before launching this assault and finally got the green light from NATO... and the offensive began," a rebel leader in Zintan, a hill town, said on Wednesday.
An AFP correspondent embedded with the rebels said there were intense exchanges of artillery, mortar and cannon fire with government troops dug in around Gualish.
In the conflict, several African mercenaries fighting alongside Kadhafi forces were captured.
NATO meanwhile listed a series of seven targets where Kadhafi's military equipment had been attacked, including eight armoured vehicles and military refuelling equipment near the eastern oil town of Brega.
An anti-aircraft gun had also been taken out close to Gharyan where earlier this week four tanks had been destroyed. Eight armed vehicles were also hit in the latest attacks in the vicinity of Zlitan.
After a retreat from around the plains town of Bir al-Ghanam last week, rebel spokesman Colonel Ahmed Omar Bani pledged last Saturday that his forces would soon try to push the front line northwards.
The latest offensive came after France said it no longer needed to drop weapons to the rebels fighting Kadhafi's forces since they were getting more organised and could arrange to arm themselves.
However, French Defence Minister Gerard Longuet cautioned against the rebels' prospects of defeating Kadhafi and pushing toward the capital.
Away from the battle front, tens of thousands of rebel supporters in their stronghold Benghazi on Wednesday took to the streets in a propaganda riposte to a pro-Kadhafi demonstration which had been beamed to their area of control last Friday.
That rally was a clear demonstration that the veteran leader still had vast numbers of supporters in Tripoli, while the Benghazi demonstration was aimed at sapping the morale of the pro-Kadhafi crowds and boosting that of the rebels.
On the political front, a senior Chinese diplomat visited Benghazi and met members of the opposition, Chinese state media said on Thursday, as Beijing showed itself becoming more deeply engaged in the war-torn nation.
Chen Xiaodong, in charge of North African affairs at the foreign ministry, met officials of the opposition's National Transitional Council (NTC), the official Xinhua news agency said.
Chen called for a quick political solution to the four-month-long crisis and urged the rebels to hold talks with officials loyal to Kadhafi, it said.
Until recently, China had maintained its long-standing policy of non-interference and public neutrality on the conflict, calling multiple times for a peaceful end to the popular uprising.
But it now appears to be getting more involved with Beijing last month recognising Libya's opposition as an "important dialogue partner" after talks in the Chinese capital between foreign minister Yang Jiechi and senior rebel leader Mahmud Jibril.
The West has thrown its diplomatic and financial support behind the NTC, which has been recognised by about a dozen countries including Britain, France and the United States.
Despite the West's air and logistical support, rebels were forced to retreat from around the plains town of Bir al-Ghanam last week and French Defence Minister Gerard Longuet cautioned this week against the rebels' prospects of defeating Kadhafi and pushing toward the capital.