Libya

's rebels ramped up a pre-Ramadan offensive on Wednesday, pushing Moamer Kadhafi's troops into retreat in the east and preparing a fresh attack from the south of Tripoli
.
Rebels said they had chased the bulk of Kadhafi's eastern army from the oil town of Brega while encircling loyalists holed up among oil installations in the northwest of the town.
As part of what now appears to be a countrywide effort to tighten the noose on Kadhafi before the Muslim fasting month of Ramadan begins around August 1, insurgents in the west said they were awaiting orders to start a fresh offensive from the Nafusa Mountains southwest of the capital.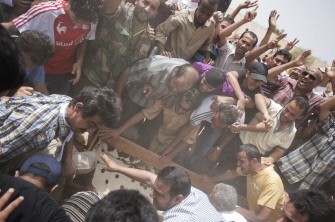 Relatives pour ground on a freshly dug grave as they bury the coffin of one of 7 Libyan rebel fighters killed the day before during the battle for the control of the oil rich town of Brega at the main cemetery in the Libyan rebels stronghold city of Benghazi on July 20, 2011
During Ramadan, the endurance of even the hardiest volunteers will be tested by desert battle without food and water during the daytime fast observed by the faithful.
But at Brega, rebel gains were stymied by vast quantities of anti-personnel mines planted by retreating loyalists and the difficulties in attacking an estimated 200 Kadhafi troops fighting from positions near vital petrochemical facilities.
That difficulty was laid bare late on Tuesday, when 24 rebel fighters died. It was by far the rebels' bloodiest day since the battle for Brega began almost a week ago.
A rebel military source said many of the casualties came when troops closing on isolated Kadhafi forces were hit by a line-guided rocket attack.
Outside the town, rebel troops cleared minefields holding up their advance, while trying to dislodge Kadhafi's artillery to the west.
Rebel military sources said some Kadhafi forces were arcing rockets over Brega down onto rebel positions from the town of Bishr, while most Kadhafi troops had retreated to Ras Lanuf, another oil town further west.
Libya's government has denied the rebels retook Brega. The rebels said Kadhafi troops inside the town were largely conscripts and volunteers who were surrounded.
Across the Gulf of Sirte, near the rebel-held enclave of Misrata, the picture was reversed.
There rebels said seven of their fighters were killed and 13 wounded when they repulsed a fresh Kadhafi attack.
"At least seven of our fighters were martyred and 13 others were wounded in intense fighting with loyalist troops," a rebels statement said.
Rebel commanders from Misrata met French President Nicolas Sarkozy on Wednesday to press for more support, French campaigner for the rebel cause, Bernard-Henri Levy, told AFP.
On the front line of the western desert hamlet Gualish, the rebels waited patiently in the shade until the next battle as Ramadan approaches and the searing summer sun grows more intense.
"We are preparing for the battle. We hope (it will take place), God willing, before Ramadan," or just after, said rebel commander Mokhtar Lakhdar.
"If there is fighting during Ramadan, we will fight as usual. We will not stop until we have liberated Libya," he said in Gualish, where the mercury hit 45 degrees Celsius (113 Fahrenheit) on Wednesday.
Lakhdar said the rebels were waiting for the green light from their headquarters in the eastern city of Benghazi.
Around him young rebels debated fighting during the fasting month.
"During Ramadan, it will be harder but, God willing, we will not be weakened but rather be stronger. Ramadan is a good time to be a martyr," said Shaban Aabor, 38.
The next rebel target is Asabah, 80 kilometres (50 miles) south of Tripoli and the last barrier between rebels and the garrison town of Gharyan.
Western governments hailed the tightening noose around Kadhafi.
"He's losing control of energy in his own country," French Defence Minister Gerard Longuet told journalists in Paris.
"A government that each day loses its international authority and... control of territory should ask itself some questions," Longuet said.
On the diplomatic front, France accepted Wednesday that Kadhafi could stay in Libya if he quits politics under a ceasefire deal, but the United States said it was for Libyans to decide.
"One of the possibilities being considered is that (Kadhafi) stay in Libya but on the clear condition that he steps aside from Libyan political life," French Foreign Minister Alain Juppe told LCI television.
The White House said it was up to Libyans to determine Kadhafi's fate once he steps down.
"The United States' position has always been that Colonel Kadhafi lost his legitimacy to lead and that he needs to be removed from power, to remove himself from power," said White House spokesman Jay Carney.
"It is up to the Libyan people to decide what his future is beyond that," he said as Slovenia became the latest country to recognise the opposition National Transitional Council as Libya's legitimate rulers.
Kadhafi's foreign minister, Abdelati al-Obeidi, said after talks in Moscow that the Libyan leader's "departure is not up for negotiation".
burs/dv