Top military commanders gathered in Seoul on Saturday to discuss how to counter North Korean provocations, as leaders of South Korea, China, and Japan headed to the southern island of Jeju for a summit amid tensions over the sinking of a warship blamed on Pyongyang.
International pressure is mounting on North Korea over the sinking of the Cheonan, which killed 46 South Korean sailors in late March in one of the South's worst military disasters since the 1950-53 Korean War. A multinational team of investigators said last week that evidence proved a North Korean torpedo sank the warship.
North Korea has denied responsibility, and has warned that any retaliation or punishment would mean war.
South Korean President Lee Myung-bak, who has pledged to take North Korea to the U.N. Security Council, sought backing from key permanent member China, the North's main ally.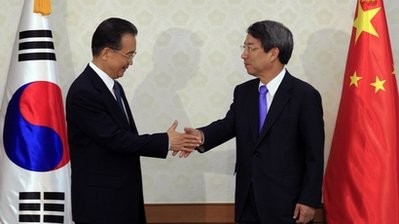 Chinese Premier Wen Jiabao, left, shakes hands with South Korean Prime Minister Chung Un-chan before their meeting at the government house in Seoul, South Korea, Saturday, May 29, 2010
Laying out the investigation results, Lee urged Chinese Premier Wen Jiabao during talks Friday to play an "active role" in convincing North Korea to admit its wrongdoing, the presidential Blue House said.
Wen told Lee that his country "will defend no one" responsible for the sinking, Lee's office said.
Beijing will determine its stance after examining the investigation results, Wen told Lee, according to a briefing by presidential adviser Lee Dong-kwan.
The three-way summit on Jeju Island is to focus on economic issues such as a proposed free-trade agreement.
However, South Korean officials said the ship sinking would be at the top of the agenda at the two-day talks, which end Sunday.
The South Korean president announced a slate of punitive measures against the North, including cutting trade, resuming anti-North Korean propaganda broadcasts across the border and launching large-scale naval exercises. U.S.-South Korean military drills are to follow in the coming months.
On Saturday, some 20 military commanders met to discuss responses to the ship sinking, a Defense Ministry official said.
"They discussed how to cope with different types of North Korean military provocations and strengthen defense readiness against the North," the official said, speaking on condition of anonymity because he was not authorized to discuss the meeting with the media.
South Korea's military reported no unusual moves by North Korean troops in the last week, he said.
Japan, giving its backing to Seoul, also instituted new sanctions on North Korea.
Japanese Prime Minister Yukio Hatoyama paid his respects to the dead sailors Saturday during a visit to the National Cemetery in Daejeon, about 100 miles (160 kilometers) south of Seoul, before continuing onto Jeju.
North Korea has accused Seoul of fabricating evidence in the ship sinking.
"The South Korean puppet regime's faked sinking of the Cheonan has created a very serious situation on the Korean peninsula, pushing it toward the brink of war," Maj. Gen. Pak Rim Su, director of the powerful National Defense Commission's policy department, said at a rare news conference covered by broadcaster APTN in Pyongyang.