ASEAN leaders have pledged to conserve energy and develop alternatives at the second East Asia Summit held in Cebu.
During the meeting, Prime Minister Lee Hsien Loong voiced concern on the use of nuclear energy.
He suggested that an expert working group be formed to look into areas of energy cooperation, and for its report to be tabled at the next summit in Singapore this November.
It was a commitment to save energy, develop new sources and strengthen regional cooperation.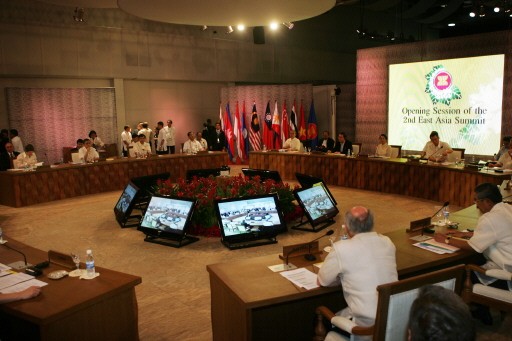 The meeting session of the 2nd East Asia summit at the Cebu International Convention Center in the central Philippine.
PM Lee noted that such collaborations will help to buffer countries from volatility of energy supplies, and a panel of experts could be formed to study it.
At the East Asia Summit, Mr Lee also told leaders that Singapore was prepared to host a meeting of energy ministers if necessary.
As regional energy consumption is set to grow, some countries are exploring alternatives like biofuel or nuclear energy.
But Mr Lee emphasised that safety measures must be put in place first.
"We have to discuss how this should be done. For Southeast Asia, it's still some distance off. In the case for nuclear energy, if something goes wrong, it's not just the neighbourhood of the power station which is affected," said PM Lee.
"Look at Chernobyl, a big chunk of Europe was affected and tens of thousands of people became casualties or suffered side effects from the radiation, so we have to understand what the risks are, and make sure that there are clear stringent rules when you run a nuclear power station."
The summit gave leaders an opportunity to meet and discuss wide-ranging issues.
ASEAN leaders also gave the green light for the drafting of an ASEAN Charter.
When ready, the charter will give the group teeth in ensuring members keep to their obligations.
While supportive of the proposals, Mr Lee said drafting it would not be easy.
"Some of the countries, I believe, would still have reservations on some of the more dramatic recommendations. Members can be expelled but that's not something that is going to happen easily. However, in principle, to be able to do that is something that makes members sit up and think carefully," said PM Lee.
Helping to get ASEAN on a strong footing for the next phase is what Singapore hopes to do when it assumes chairmanship of the group in August.
Mr Lee said besides ensuring that the charter is drafted in time, another focus is to push forward on trade talks with ASEAN's dialogue partners.
Mr Lee also added that Singapore supports Japan's idea of a free trade area with the group.
Going forward, ASEAN will be actively pursuing FTAs (Free Trade Agreement) with all of its East Asia Summit members, namely Korea, Japan, China, India, New Zealand and Australia.
Australia has proposed to work together with the group on regional financial issues. - CNA /ls