Afghan President Hamid Karzai on Monday offered peace talks with a resurgent Taliban after the bloodiest year since the hardline Islamists were ousted in 2001 and amid warnings of a violent spring offensive.
More than 4,000 people, including about 170 foreign soldiers, died in fighting last year, a year that saw a dramatic jump in suicide bombings as the Taliban and other militants copy tactics from insurgents in Iraq.
Karzai made the offer while speaking at a religious gathering in Kabul on one of the holiest days of the Shia Islamic calendar, but he did not specifically name the Taliban.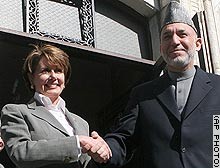 U.S. House speaker Nancy Pelosi met with Afghanistan President Hamid Karzai
"While we are fighting for our honour, we still open the door for talks and negotiations with our enemy who is after our annihilation and is shedding our blood," he told the crowd at the main Shia religious compound in the capital.
Karzai also said he prayed for the "guidance" of those who plotted against Afghanistan, referring to neighbouring Pakistan where the Taliban and their Islamic allies have sanctuaries.
Karzai two years ago offered amnesty to those Taliban he and others regard as moderate, but on Monday made no such distinction.
No senior Taliban commander or leader has surrendered or joined the government as part of past efforts to bring them into the mainstream and senior rebel leaders have ridiculed such calls as a sign of weakness.
The Taliban have vowed to drive out foreign troops and overthrow Karzai and his government.
The insurgents and their Islamic allies are mostly active in the southern and eastern areas bordering Pakistan. The Taliban, NATO and U.S. commanders say there will be bloody violence within months with the approach of spring as the snows thaw.
The U.S. government has pledged to pour in billions of extra dollars and more troops this year to crush the insurgency.