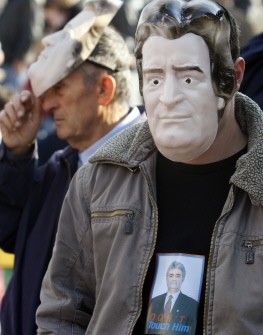 Bosnian Serbs wear masks featuring the face of Bosnian Serb wartime leader Radovan Karadzic during a protest organized to show support of Bosnian Serb people, in Banja Luka, on September 29, 2009, in Banja Luka. (AFP photo)
THE HAGUE, Netherlands, Oct 26, 2009 (AFP) - The genocide trial of Bosnian Serb wartime leader Radovan Karadzic was adjourned in his absence Monday to Tuesday afternoon for the prosecution to present its opening statement.
"In light of the absence of the accused and of counsel to represent him, the chamber will adjourn these proceedings today," judge O-Gon Kwon said within 15 minutes of the opening of the trial, which Karadzic boycotted to insist on more time to prepare his defence.
The judge said the hearing would reconvene at 14:15 pm (1315 GMT) on Tuesday for the prosecution's opening statement.
"We request Mr Karadzic to attend so that his trial is not further obstructed," he said.
Karadzic, who will conduct his own defence, informed the court last Wednesday that he would not be present for the start of the trial, claiming he had been denied adequate time to prepare his case.
The 64-year-old faces 11 charges of genocide, war crimes and crimes against humanity for his role in the 1992-95 Bosnian war in which 100,000 people were killed and some 2.2 million displaced.
He was arrested on a Belgrade bus in July last year after 13 years on the run and risks a life jail sentence. He denies all charges.