Moamer Kadhafi's regime appeared to have lost vast swathes of Libya's east to an insurrection as Western nations braced for a mass exodus from a "bloodbath" in the oil-rich African state.
US President Barack Obama demanded a unified global response to the Libyan regime's "outrageous" crackdown, which rights groups say has featured aerial strafing and heavy weaponry against civilians, and left hundreds dead.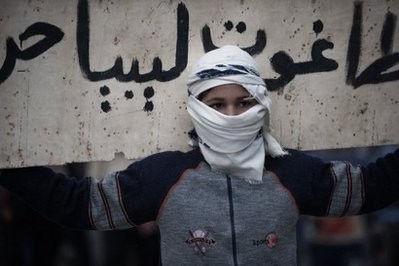 A young Libyan protester holds a makeshift placard with the Arabic writing the tyrant of Libya during an anti-Kadhafi demonstration in the eastern Libyan town of Derna, between Tobruk and Benghazi, on February 23, 2011 amid reports that Moamer Kadhafi's regime has lost vast swathes of Libya's east to an insurrection
Europe readied sanctions and warned it would hold to account those responsible for the bloody crackdown, as thousands of Libyans and foreigners fled the north African country.
"Last night I've never been so scared in all my life," Jane Macefield, a British teacher, said on Wednesday at London's Gatwick airport after fleeing Tripoli.
On the ground, Kadhafi opponents appeared in control of Libya's coastal east, from the Egyptian border through to the cities of Tobruk and Benghazi, with government soldiers switching sides to join the uprising.
Tobruk is located about 100 kilometres (62 miles) from the border and Benghazi, the epicentre of protests, some 400 kilometres further west -- both in the Cyrenaica region.
Journalists saw regime opponents -- many of them armed -- all along the highway that hugs the Mediterranean coast.
Soldiers were declaring their support for the uprising, residents said, but the regime asserted it was still in control via a text message sent on the national mobile telephone network.
"God give victory to our leader and the people," the message said, promising a credit in cellphone time if it were forwarded to other mobile users.
Saadi, Kadhafi's third son, told Thursday's Financial Times newspaper in a telephone interview that his father would play a key role in any new regime: the first time the family has spoken of a post-Kadhafi era.
"My father would stay as the big father who advises," he said. "After this positive earthquake, we have to do something for Libya... We have to bring in new blood to govern our country."
But Moamer Kadhafi himself has vowed a fight to the death to maintain his four-decade grip on power, and Saadi also claimed that 85 percent of Libya was "very calm" and that army battalions were ready to strike against protesters.
In the country's third city of Misrata, Kadhafi loyalists fired machine guns and rocket-propelled grenades at demonstrators on Wednesday, killing several people, witnesses said.
Oil sold in New York crossed the symbolic $100 a barrel level, hitting prices not seen since 2008, amid fears over supplies from Africa's fourth-largest crude producer.
With Western oil companies suspending operations, London Brent crude was even higher at more than $112 per barrel.
Deputy Foreign Minister Khaled Khaim said Al-Qaeda had set up an Islamic emirate in Derna, between Tobruk and Benghazi, headed by a former Guantanamo Bay inmate.
But local residents dismissed the reports as the Libyan government trying to "scare Europe".
Al-Qaeda's branch in North Africa has vowed to do everything in its power to help the uprising, according to a statement posted Thursday by the SITE monitoring group.
"(We) will do whatever we can to help you, with power from Allah, because your fight is the fight of every Muslim who loves Allah and His Messenger," the statement from Al-Qaeda in the Islamic Maghreb (AQIM) said, according to SITE.
Italian Foreign Minister Franco Frattini demanded an end to "this horrible bloodbath" and warned of an "exodus of biblical proportions" with 300,000 Libyans possibly fleeing to Europe.
A UN spokesman said about 5,000 people had arrived at the border with Tunisia and 15,000 at the border with Egypt.
China, the European Union, France, India, South Korea and the United States, among others, scrambled to evacuate people, as the international community expressed outrage at the crackdown.
"The suffering and bloodshed is outrageous, and it is unacceptable," Obama said at the White House, denouncing "threats and orders to shoot peaceful protesters" as a violation of international law.
"In a volatile situation like this one, it is imperative that the nations and peoples of the world speak with one voice and that that has been our focus," he added.
In Tripoli, streets were mainly empty, barring a few dozen Kadhafi backers, despite his nationally televised call on Tuesday for a show of popular support.
Libyan authorities said food supplies were available as "normal" in the shops and urged schools and public services to restore regular services, although economic activity and banks have been paralysed since Tuesday.
The International Federation for Human Rights said at least 640 people had died in the regime's crackdown although Kadhafi's former protocol chief, Nouri el-Mismari, said the death toll had surpassed 1,000.
"This is the end of Moamer Kadhafi," he told AFP. "Moamer Kadhafi does not even have five percent of the country behind him."