Jockeying for ministerial posts in Thailand's new government began on Tuesday as Prime Minister-elect Yingluck Shinawatra seeks to deliver on billions of dollars of populist campaign promises.
Yingluck, a political novice, must also pacify critics who fear a return of her divisive brother, Thaksin, after their Puea Thai Party won a landslide victory in Sunday's election.
A cabinet dominated by pro-Thaksin ministers would fuel such concerns and weaken Yingluck's calls for reconciliation after six years of political crisis.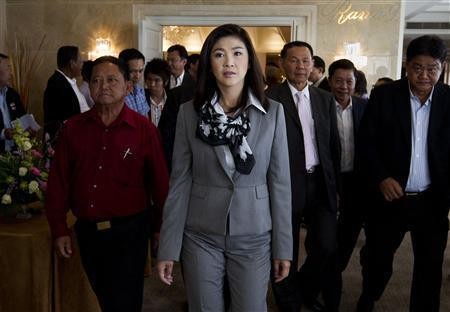 Puea Thai Party's Yingluck Shinawatra (centre) arrives to attend a news conference on the formation of her coalition in Bangkok July 4, 2011
The traditional scramble by coalition partners for cabinet jobs, known as 'the stampede to snatch the rice bowls,' had begun, Bangkok newspapers said on Tuesday.
'No Reds in new cabinet' was the front page headline in the Nation, referring to the pro-Thaksin 'red shirts,' who clashed with the military in Bangkok in 2010, leaving 91 people dead.
The Bangkok Post said Thaksin, now living in self-imposed exile in Dubai, may personally vet cabinet positions, and that moves were afoot for his return, but that it would not be rushed and may take a few years.
Thailand's powerful military has said it will accept the election result, adding to a new sense of stability in a country plagued by unrest since the army staged a 2006 coup to oust then Prime Minister Thaksin.
But many believe that while there may be short-term stability, the medium to longer term remains uncertain, especially if the new government issues a general amnesty allowing Thaksin to return home.
Puea Thai won an estimated 264 seats in the 500-seat parliament and could govern alone, but Yingluck, who will be Thailand's first female prime minister, has said she would form a five-party coalition controlling 299 seats.
Puea Thai would keep the key portfolios of defence, foreign affairs, interior, transport and agriculture, and Yingluck, a successful businesswoman, could oversee economic ministries, local media said.
Under Thailand's constitution, the new government could take weeks to be formed and then has to be approved by the king.
(Reuters)