Japan's outgoing Prime Minister Shinzo Abe has struggled with illness and has been "in profound anguish," the government's top spokesman said Wednesday.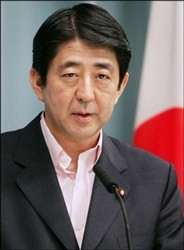 Outgoing Japan's PM Shinzo Abe
"We were worried. Prime Minister Abe was always assessing whether his health can withstand the hard schedule and pressure of a prime minister," Chief Cabinet Secretary Kaoru Yosano said after Abe announced he would resign.
"Because this is a private health matter, I will not elaborate. But he has been in profound anguish," Yosano told reporters.
Asked if Abe needed hospitalisation or a rest, Yosano said: "He can continue a normal life. But his responsibility as prime minister must have been an enormous pressure, in terms of physical burden as well as a mental one at times of important decision-making."
In his sudden announcement, Abe cited difficulties in dealing with the opposition, notably to extend an military mission supporting US-led operations in Afghanistan, as one of the reasons for stepping down.
He made no mention of health problems.
Abe's party suffered a heavy defeat in July upper house elections after a string of scandals involving his ministers and public anger over mismanagement of the pension system.
The election defeat prompted calls from both ruling and opposition parties for Abe to step down, but the premier stayed on, saying as recently as Monday that he intended to continue his reform drive.
The timing of Abe's announcement surprised the public and was criticised by the opposition.
Even his recently appointed Foreign Minister Nobutaka Machimura said it was "difficult to understand" that the reason of his resignation was the problem in securing an extension to the Afghanistan refuelling mission.