Japan's jobless rate fell unexpectedly for the first time in seven months in August while consumer spending rose, data showed Friday, boosting hopes the economy is healing after its worst slump in decades.
Massive stimulus spending and rebounding exports are nursing the world's number two economy back to health, but there is a risk that the recovery may stall at some point as the impact of pump-priming measures fade, analysts said.
The jobless rate fell to 5.5 percent in August, from a record high of 5.7 percent in July, the government said. The improvement surprised markets, which had anticipated a figure of 5.8 percent.
"The job market is still bad but is coming out of the worst period," said UBS economist Takuji Aida.
Even so the unemployment rate will stay high for a country that once boasted a job-for-life culture, he said.
The number of people out of work stood at 3.61 million in August, up 890,000 from the same month of 2008 -- the 10th straight year-on-year increase.
Household spending rose by 2.6 percent in August from a year earlier, reversing a drop of 2.0 percent in July, the government said.
Together with the drop in the jobless rate and a rise in retail sales, "the spending number raised a possibility that the state of the household sector has improved more than we had expected," said JP Morgan economist Masamichi Adachi.
But "it looks too early to judge that the households are now gaining strength," he added, noting that the effect of stimulus measures would eventually fade.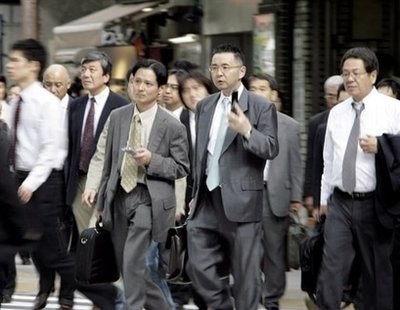 Pedestrians are seen crossing a street in downtown Tokyo
While the job market slump appears to be easing slightly, conditions remain tough for people looking for work, with only 42 offers for every 100 jobseekers in August, matching a record low set in July.
There are concerns that unemployment could worsen again later this year as firms continue to restructure and as the effect of pump-priming measures such as government incentives to buy cars in Japan and overseas begin to wear off.
The jobless rate may rise to as high as 6.0 percent by the end of the year, said Susumu Kato, chief Japan economist at the Calyon investment bank.
"August labour market indicators appeared to stop worsening but this can't be understood as a turnaround in job market conditions," he warned.
However, "recent sustained gains in industrial production could help to increase employment among some manufacturing sectors," he said.
Japan's factory output rose for a sixth straight month in August, the longest unbroken expansion in 12 years, earlier data showed.
Many Japanese companies, particularly exporters, moved swiftly to cut jobs and production in response to a slump in demand caused by the global economic downturn.
Some companies are now starting to hire again after the economy grew in April-June for the first time in five quarters.
Toyota Motor said this week that it would take on 1,600 temporary workers because sales were recovering more strongly than expected.
But deflation remains a worry for Japan and domestic demand is relatively subdued, weighed down by weak wages and people's fears of losing their jobs.
Average household income fell 2.0 percent in August from a year earlier, following a 0.2 percent rise in July.
The results of the Bank of Japan's closely watched Tankan business survey showed Thursday that corporate executives were less gloomy for a second straight quarter but the outlook for profits and investment remains bleak.