Japanese Prime Minister Shinzo Abe resigned on Wednesday after less than a year in power, falling victim to a string of scandals that hampered his agenda and sent his approval ratings plummeting.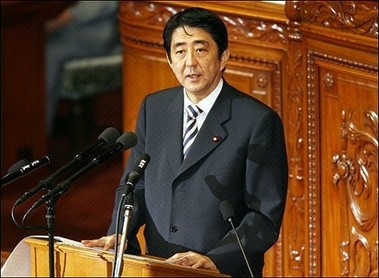 Japan's Prime Minister Shinzo Abe, pictured 10 Sept, resigned Wednesday. (AFP Photo)
The youngest Japanese leader in modern times and the first to be born after World War II, came to office pledging to restore the nation's pride and rewrite the pacifist constitution.
But a series of gaffes and scandals cost his ruling party control of the upper house of parliament in July, and Abe conceded that the resurgent opposition had made it impossible to do his job.
"I have decided to step down from the prime minister's position," a visibly emotional Abe told a news conference. "I thought the party should generate new momentum and progress under a new leader."
He said he had instructed his Liberal Democratic Party to pick a successor "as soon as possible." His resignation takes effect once a successor is chosen.
Abe ran into trouble after the LDP lost control of the upper house for the first time in its history in July, and the resurgent opposition worked hard to scupper his reform agenda.
He notably struggled to persuade the opposition to drop objections to the extension of a controversial military mission backing US-led forces in Afghanistan, and his opponents vowed to fight hard against his agenda.
"I have made my utmost efforts with my belief that we should not stop reforms. But unfortunately, the party cannot hold talks with the opposition party because I am the prime minister," Abe said.
Rural voters deserted the LDP in droves in the recent election, failing to relate to Abe's ideological agenda, which focused on building Japan's global standing and rewriting the constitution.
But the campaign failed to resonate among voters as the opposition pressed on bread-and-butter concerns such as mismanagement of the pension system and income inequality.
Four of his cabinet ministers resigned under a cloud, and a fifth committed suicide.
In the face of record low approval ratings and calls from backbenchers to stand down after the election defeat, he had refused to resign, insisting voters supported his agenda but were upset by the scandals.
He reshuffled the cabinet on August 27 in hopes of a fresh start, and got a brief boost in approval ratings. But just one week later his new farm minister resigned over financial wrongdoing.
Taro Aso, the LDP secretary general and a former foreign minister known for his blunt, is seen as one of the front-runners to replace him.