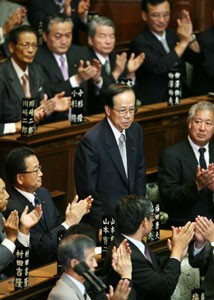 Japan's ruling LDP President Yasuo Fukuda (C) talks after being declared the winner of the lower house of parliament as prime minister in Tokyo, Sept. 25, 2007.
Japan's parliament on Tuesday installed moderate Yasuo Fukuda as prime minister, replacing conservative Shinzo Abe after his resignation.
Fukuda, a 71-year-old political veteran, stood up, smiled and bowed to lawmakers around him after the lower house of parliament declared him prime minister.
The ruling Liberal Democratic Party chose Fukuda as its leader on Sunday and used its majority in the lower house to approve him as prime minister Tuesday.
The opposition controls the upper house, which did not support Fukuda, but the lower house constitutionally carries greater weight.
"Because the two houses could not reach an agreement, the lower house decision will be adopted," Speaker Yohei Kono said to declare Fukuda prime minister.