TOKYO, May 25, 2009 (AFP) - Japan vowed "stern action" against North Korea over its latest nuclear test and pushed for an emergency meeting of the UN Security Council that was set to be held later Monday.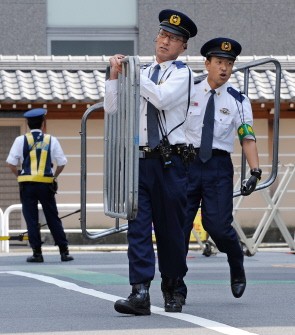 Policemen carry barricades to block roads linking to the headquarters of the General Association of Korean Residents in Japan for possible protests against the North Korean facilities in Tokyo on May 25 (AFP photo)
Pyongyang said it staged a successful underground nuclear test which was more powerful than its previous test in 2006, followed later by an apparent short-range missile launch.
"It is absolutely unacceptable," said top government spokesman Takeo Kawamura, as Prime Minister Taro Aso set up a special crisis task force. "Japan will take stern action against North Korea."
"It is an act that we can never tolerate," Foreign Minister Hirofumi Nakasone said in Hanoi after meeting South Korean counterpart Yu Myung-Hwan.
"As it is a violation of UN Security Council resolutions, (Japan) condemns and protests it strongly. It is a challenge to the whole of the international community and increases tensions.
"We, as the only atomic-bombed nation, need to take stern action."
Japan quickly asked UN Security Council chair Russia to open an emergency meeting, and the Japanese UN mission said later a meeting had been scheduled for Monday afternoon local time in New York.
The government also planned a Tokyo national security meeting for 0830 GMT.