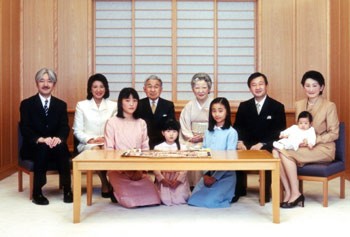 This picture taken 14 December, 2006 and released from the Imperial Household Agency 01 January 2007 for the New Year holiday shows the Japanese imperial family at the emperor's residence in Tokyo.
Prime Minister Shinzo Abe has decided to scrap a government panel's proposal to let women ascend to the Japanese throne, a newspaper report said Wednesday.
Abe would still consider amending the rules for royal succession as the world's oldest monarchy faces a crisis due to its male-only succession tradition, the conservative Sankei Shimbun said without citing sources.
It said the decision by Abe, who had been wary of letting women take the Chrysanthemum Throne, was made possible with the September birth of Prince Hisahito -- the first boy born to the imperial family since 1965.
The birth was a dream come true for conservatives, and led then-prime minister Junichiro Koizumi to suspend widely popular plans to introduce female succession.
Crown Princess Masako, a former career woman who makes few appearances due to the stress of adapting to palace life, has only one child from 13 years of marriage -- four-year-old Princess Aiko.
Traditionalists believe the imperial family has descended from a male line dating back more than 2,600 years. Historians agree the lineage dates back from at least the sixth century AD.